A travel website is a must-have for you if you are into the travel business. It helps you to increase your customer base. Using a travel agency WordPress theme anybody can create a website these days on his own. But, a beginner may feel a little lost and get confused when it comes to starting a travel website. But in reality, it is not as big a challenge as it seems. In this article, we will discuss the factors you should consider when creating a travel website with WordPress. At the end of the article, we will also introduce some WordPress themes that will help offer you all the necessary features that you may require to establish your travel business.
Table of Contents
What you should consider while creating a travel website?
Lay emphasis on website design
The design of a website can make or break its market. It is the first thing that catches viewers' attention. You need to make your travel website as catchy as possible. People visit a travel website mainly because of two reasons. Either they want to plan a trip or they want to know about new travel destinations through the information that you provide. To win both types of viewers, you need a gorgeous layout with attractive photographs. Try to use more pictures and fewer words. That is the ideal style of a travel website.
Write blogs about your travel stories
There are many travel blog lovers who like to read about travel experiences. You may publish blogs on your site to cater to these people. It won't just drive more traffic to your site but also help you to improve your SEO if you encourage your readers to share your stories with backlinks. If you mention travel-related products on your blogs, you can go for affiliate marketing. It will serve as a secondary earning source.
Explain tourism packages with how-to blogs
It is always a good idea to write how-to articles to sell your services. You can promote your tour packages easily by writing about how to reach different tourist destinations. Travelers love this type of article as they get detailed explanations there. Never forget a place a CTA for booking somewhere nearby. It will help you to increase your sales.
Promote your website on social media
Social media is one of the most powerful channels for product promotion these days. Everyone has a social media account and keeps visiting different websites. You can use platforms like Twitter, Facebook, Instagram, and YouTube to promote your travel website and increase its popularity.
Inspire people to take action and travel with you
Your ultimate objective is to sell your tour packages. To boost your conversion, you need to have a strong promotional strategy. Try to create interest among your potential customers about your services through campaigning. You can also use some direct marketing techniques like discounts or various offers to encourage customers to travel with you.
As discussed above, web design plays an important role in creating a business related to tours and travel. There are many templates & themes available to create a website for travel agencies or travel blogging. Whether you are a solo traveler, a small group of travel enthusiasts, or a full-fledged travel agency, there are lots of themes for you to choose from.
Below are the few recommended WordPress Travel Themes that we think are the best in the industry for creating a travel website.
Select a WordPress Travel Theme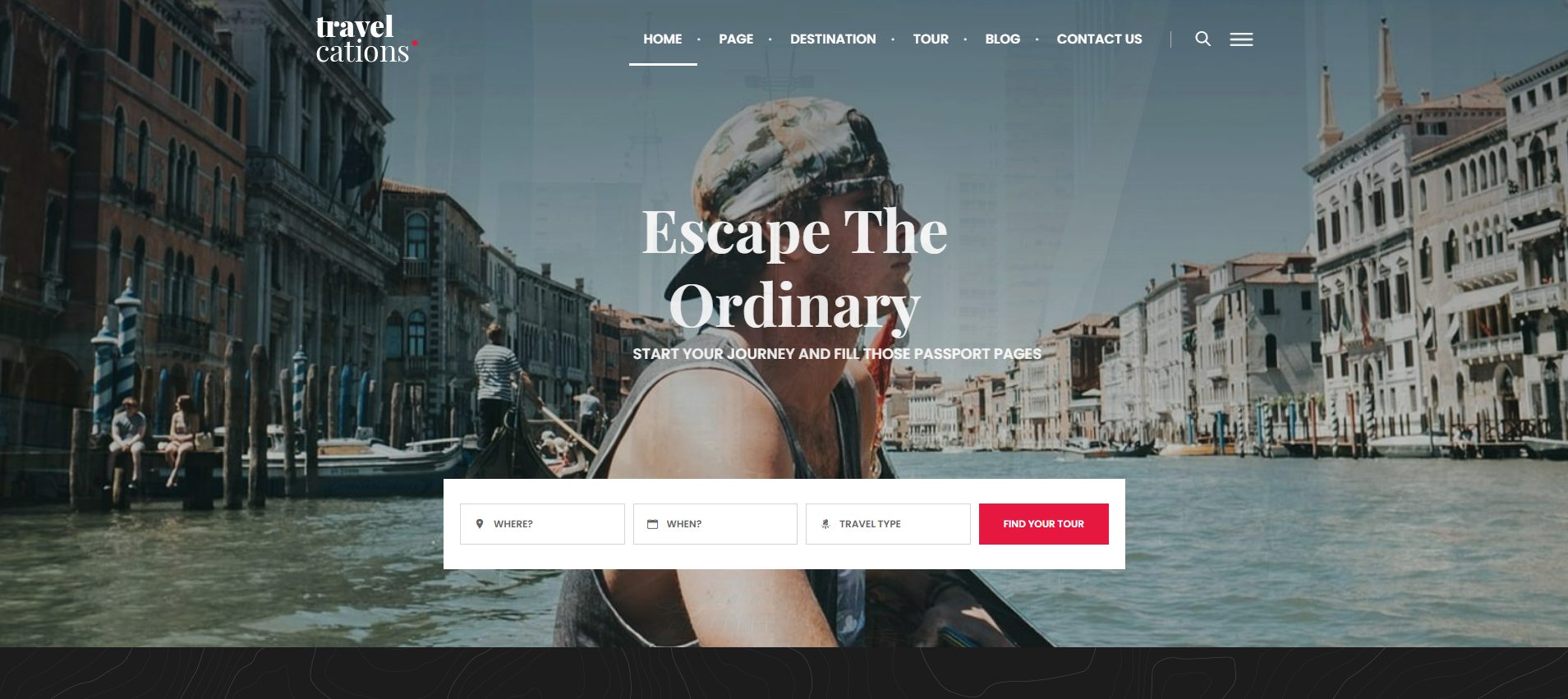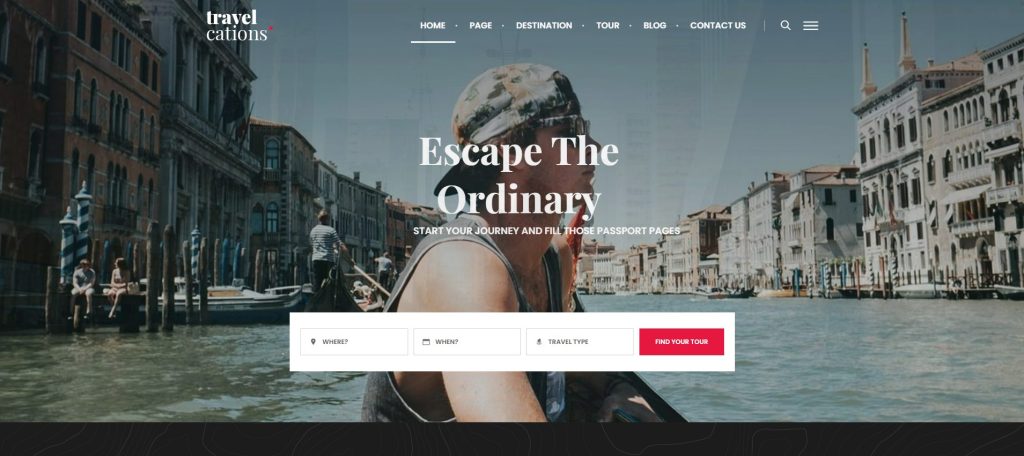 Travelcations is an incredible WordPress Theme for travel service sites. It is flexible and very adaptable on account of its usefulness.
This WordPress theme by BoostifyThemes will give you full control over the website layout and design. Travel agency websites display tours and encourage visitors to buy trips. This theme takes care of creating a virtual tour and display of plans with a beautiful image gallery.
Below are the top features of the theme:
4 Pre-built Home Page included: TravelCations comes with 4 premade home pages that can meet any requirements of a travel website.
20+ predesign templates perfect for tour & destination: You can also customize tour header content between the parallax background image and video content to make it more interesting for your potential customers. It also supports review options, map & location, and image gallery. Besides, you can also add related tours to each destination to increase the booking conversion rate.
SEO Optimized: The Theme comes with a clean and optimized code that helps your site get brilliant results on Search Engine Ranking and drive more traffic. Built-in performance options will ensure that your website loads fast and runs smoothly. Moreover, it's compatible with most SEO plugins.
3 different Blog layouts: The theme offers 3+ beautify blog layouts that make your content stand out on the Internet.
Mobile optimized design: Mobile is more and more popular so mobile optimization is the most important thing for all online businesses.
Unlimited Options (Updates In Realtime): The Customizer with easy navigation and dozens of theme elements. You can select hundreds of amazing fonts, apply many pattern backgrounds, and set up different theme settings and effects.
Slider Revolution included(Save $19): The award-winning Revolution Slider is supported. This beautiful responsive slider allows you to create stunning effects for your site.
Travel – By CyberChimps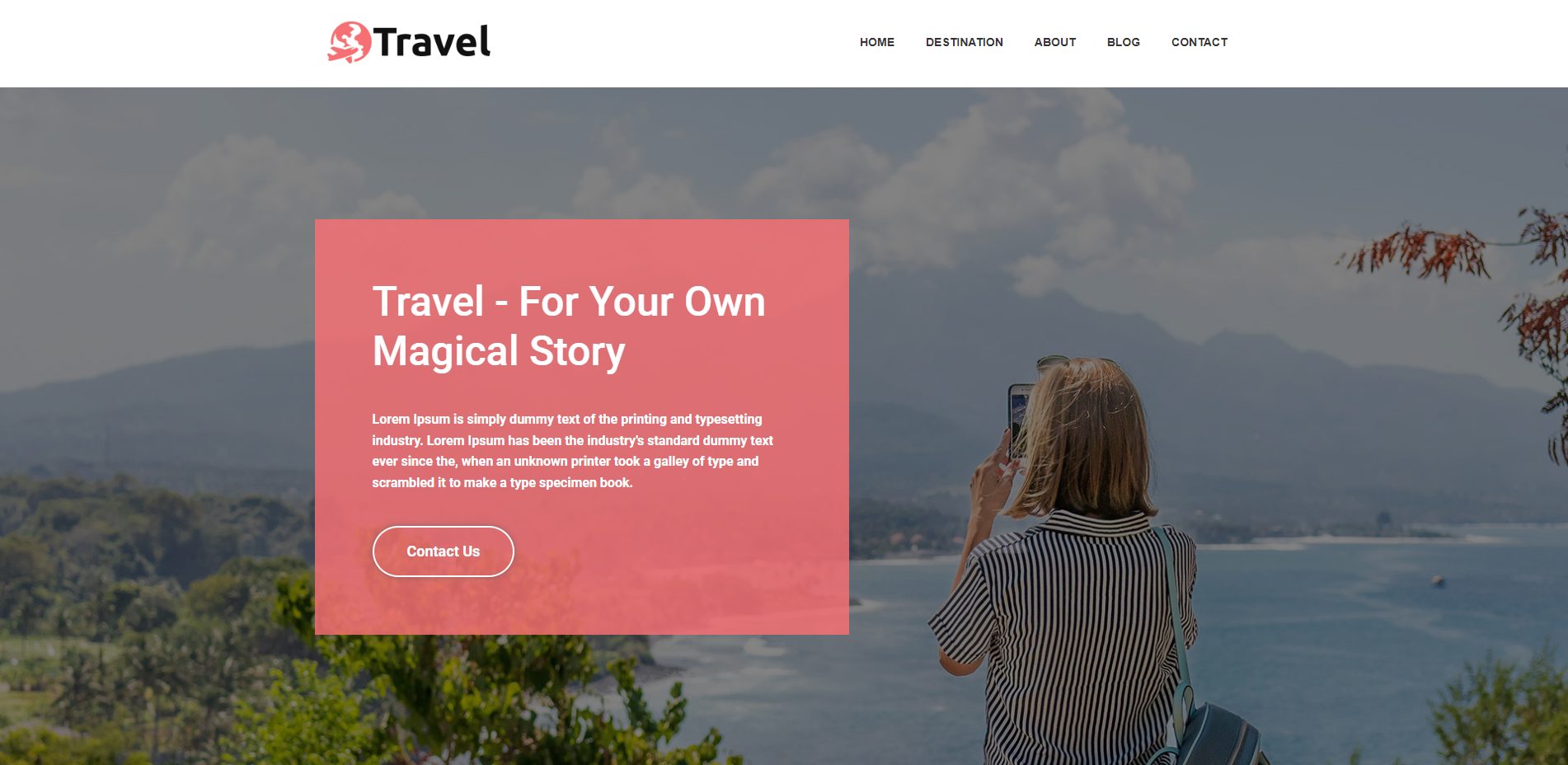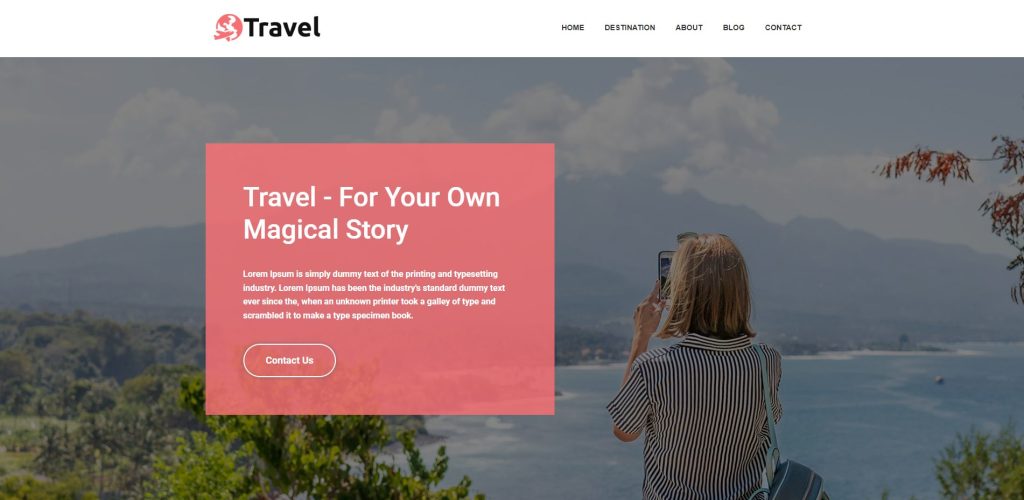 A theme lays the foundation for a website. If you wish to run a travel agency website successfully, the first thing that you need is an ideal theme. It defines the overall look and the features of the website. There are thousands of WordPress travel agency themes available in the market. We would recommend the WordPress Travel Template here. Its easy interface can turn anyone into a travel blogger or successful travel dealer overnight.
WordPress Travel Template is a feature-rich ready site template that comes with the Responsive Pro theme by CyberChimps. It has pre-designed pages that you can import with just a single click and publish directly after adding your details. There are inbuilt contact forms.
The travel agency WordPress theme offers you a ton of features for layout customization. It has a drag-and-drop editor and many custom widgets. There are advanced typography, unlimited color styles, and lots of header and footer possibilities. You can showcase your travel photos using sliders on your pages and add testimonials from your customers on your screen.
The theme is SEO-friendly and cross-browser-compatible. It is responsive and retina-ready. You can integrate it with any modern WordPress plugin to increase the functionality of your travel agency website.
Here are the key features of the theme:
Online Store: WordPress travel template comes with WooCommerce integration. There are readymade store layouts. You can select anyone as per your choice and create your online store with just a few clicks.
Booking: The theme has advanced booking options. Your users can search and plan their holiday trips, look for a package, and make their bookings directly on your site.
Memberships: There are membership features. You can have annual subscriptions and monthly memberships. The advantage of this is that you can use it as a marketing tool by giving some membership discounts on every tour package.
Discount coupons: The specialty of the theme is it lets you generate more revenue by selling your packages with discounts using WooCommerce coupons.
Multilingual ready: The WordPress Travel template is WPML compatible. You can translate your webpage contents into any language of your choice.
Take a Look at Top Travel Websites
Now it's time to get inspired by the top travel agency websites.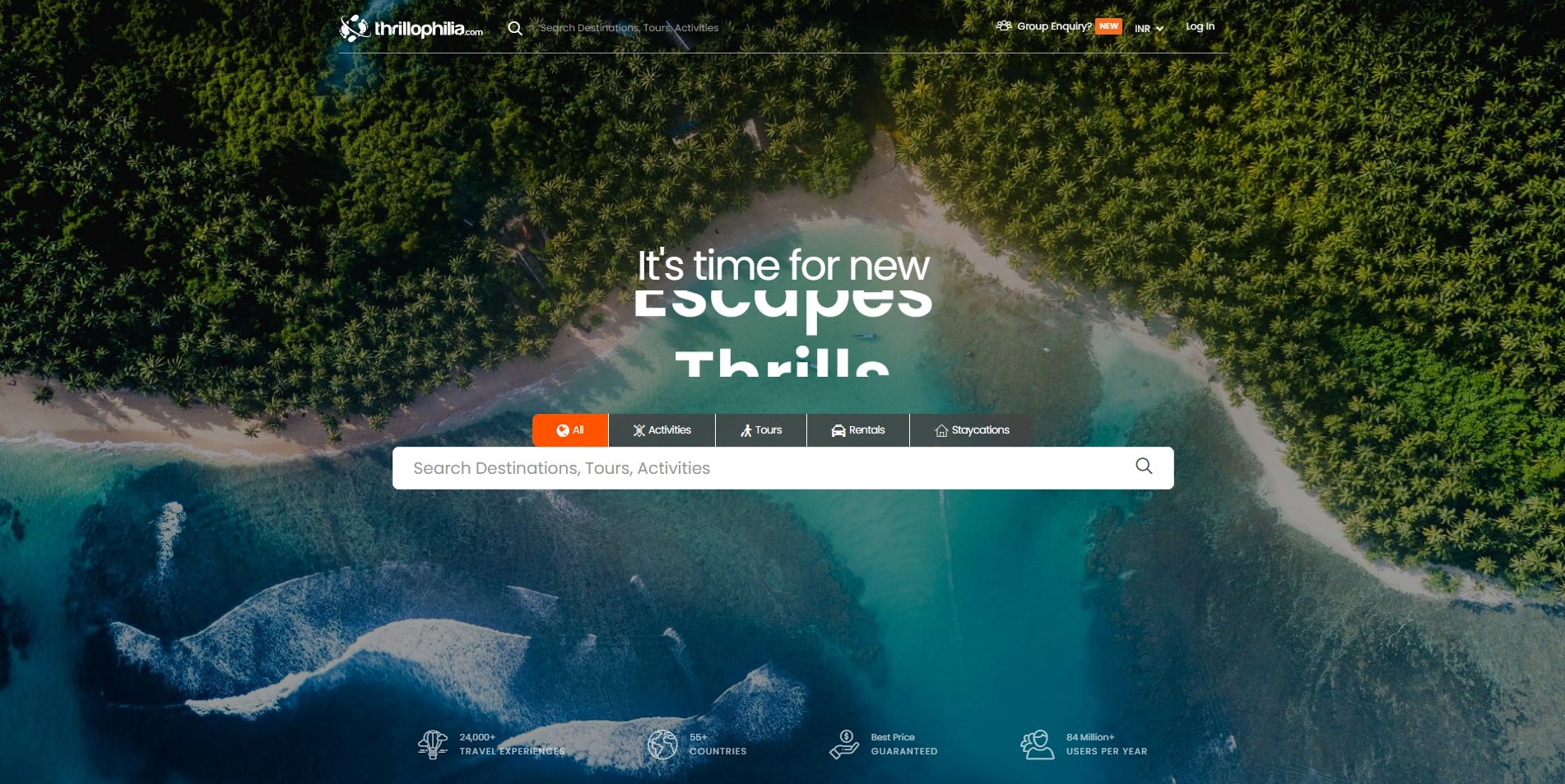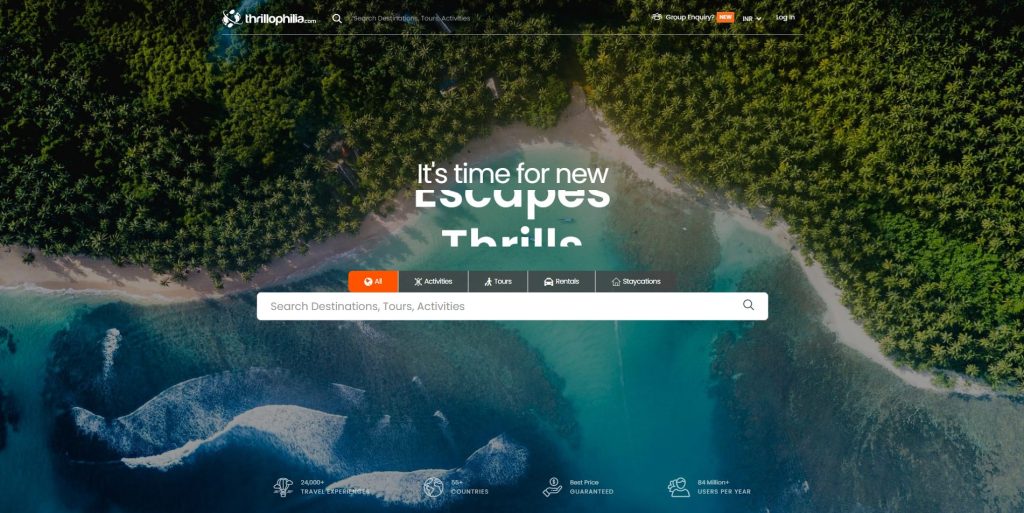 Thrillophilia is one of the most popular travel agency websites in India. With headquarters in Bangalore, it has a network spreading over 15 countries around the world. It offers travel packages at an affordable price. The website gets you glued to the screen with its gorgeous colors and appealing images. You can search for travel packages location-wise based on your destination. All the current offers are nicely displayed with a slider on the homepage.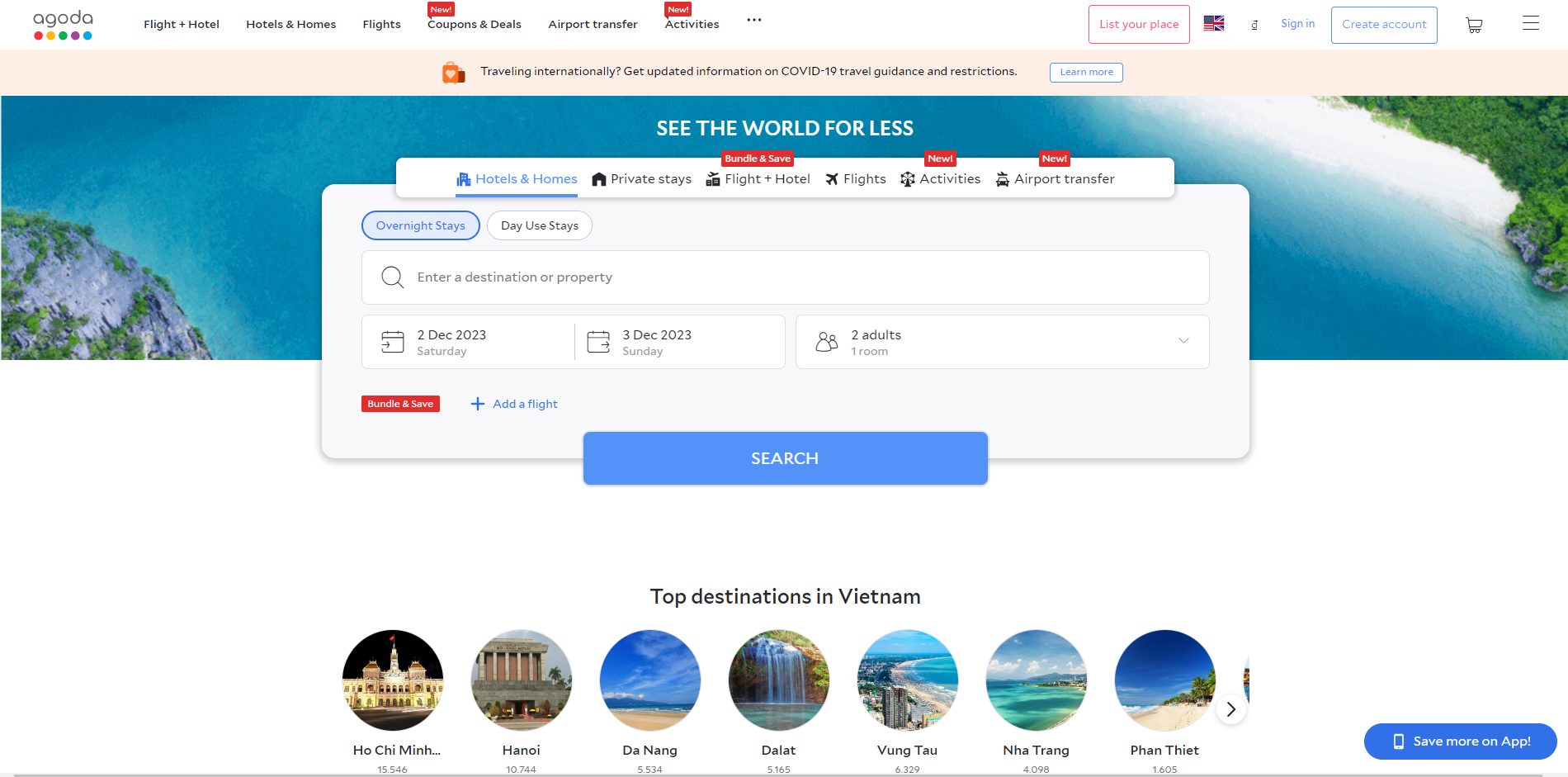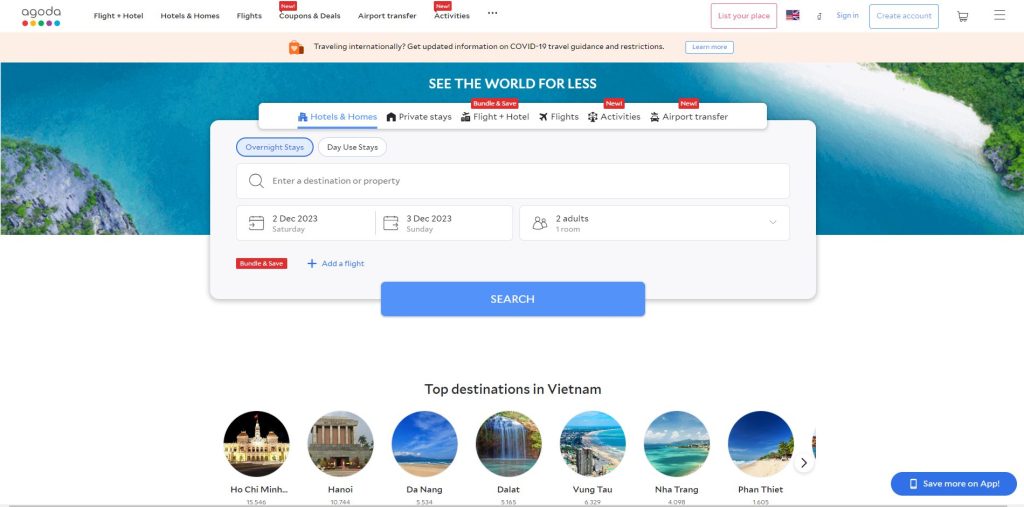 Agoda is a travel booking website. It allows you to book your trips to different locations around the world. You can book hotels and flights here. The homepage has an advanced search bar with a CTA next to it. You can search for packages for various locations by date and make your booking immediately. It is a simple and information-rich website.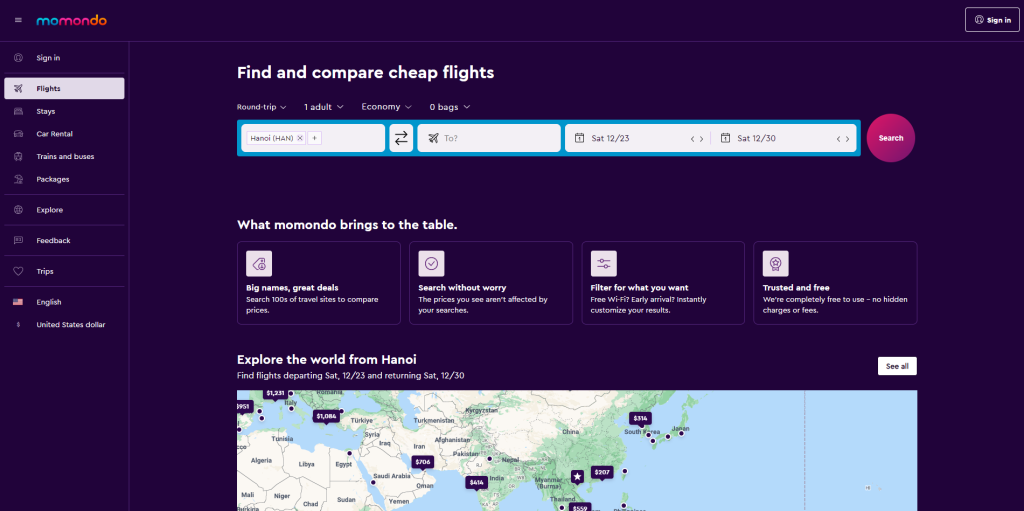 Momondo helps you to find cheap flights for your travel destinations. You can search for different options and compare them. The website also offers hotel booking and car rental services. Momondo has its network in India, Toronto, Bangkok, NewYork and Singapore.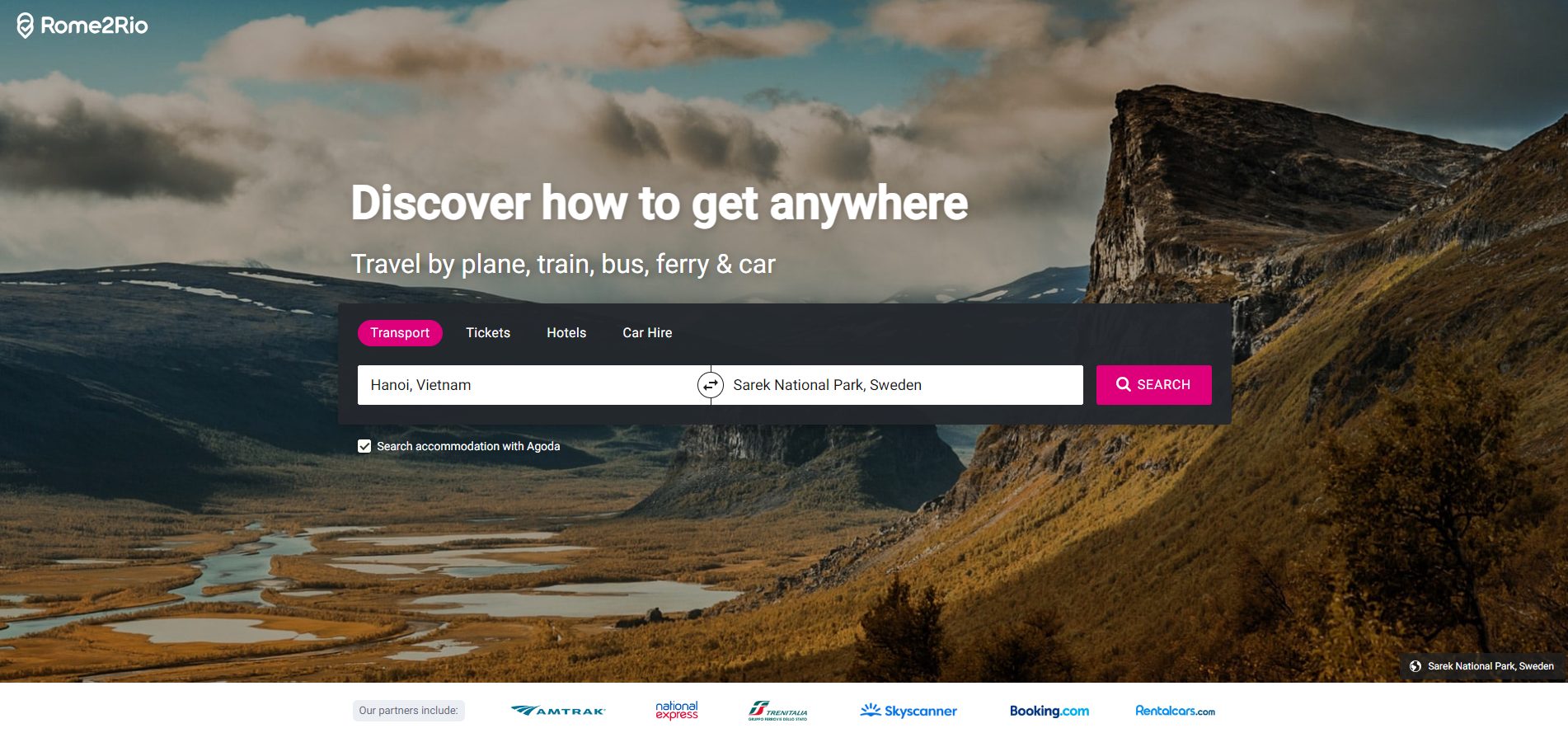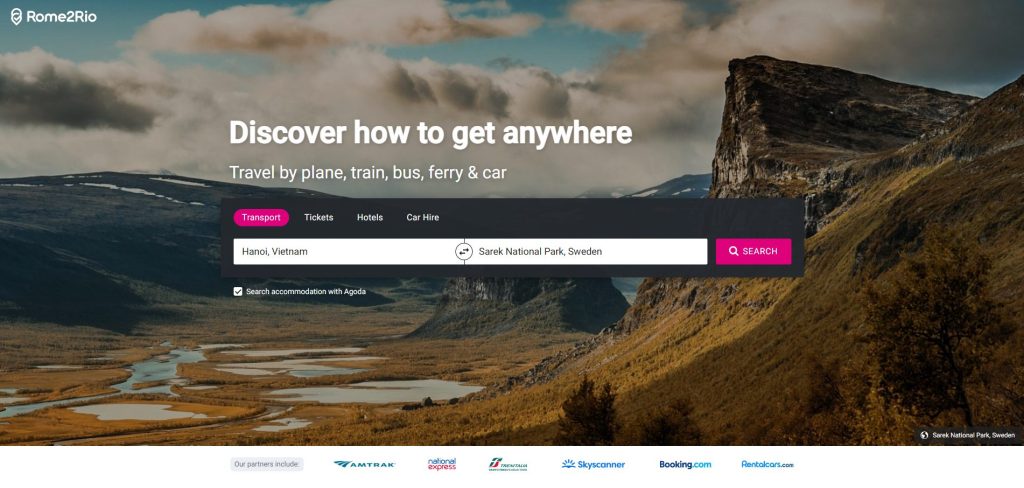 Rom2rio is a simple and stylish website for travel booking. Here, you can find out how to reach a place easily. It helps you to book flights, and train tickets for different locations all over the world, and rental car services within the cities. You can also find cheap hotels here.
In Conclusion,
When creating a travel website with WordPress, consider key factors such as responsive design, performance optimization, user-friendly navigation, captivating visuals, and engaging content. Besides, choose a good travel WordPress theme to enhance your website's aesthetics and functionality. With the right elements in place, your travel website can inspire and connect with travelers worldwide.