When you start a food delivery business, the theme of your website is the key factor in attracting customers to stay on your website, and then place orders.
Indeed, the theme includes a layout, as well as eye-catching images that will draw customers in. Furthermore, it is also perfectly optimized to help enhance Google rankings.
That's why it's so crucial to take time and consider all the themes available for your food startups website.
You are struggling with choosing the perfect themes? Don't worry! We'll provide you with a collection of the finest WordPress food delivery theme in this post.
How will be food delivery in the future?
Food delivery is becoming one of the most increasingly popular services nowadays. Businesses, as well as consumers, order food and beverage delivery due to its convenience.
GrubHub, Blue Apron, and InstaCart are transforming the way people eat and buy food. They've been taking advantage of a group of customers who prefer to order in rather than go out.
During the COVID-19 pandemic, however, food delivery has become almost a need for an increasing number of customers. And it doesn't seem that this will change in the near future.
Most of the big companies in the food delivery business, in fact, have their sights set on the future. Many businesses, like Grubhub, Domino's Pizza, and Pizza Hut have tested ordering through a virtual assistant, a car, and even emojis.
With all of these advancements, it is clear that maintaining a functional online presence is still critical. For people who buy food online, speed and ease of use are major factors. According to RubyGarage, 63% of American people delete their carts once they experience poor customer service.
However, this problem can be saved by a professional delivery WordPress food delivery theme design. If you run a food delivery service, you will undoubtedly need to develop a high-quality website with a user-friendly theme as well as various features supported by the food delivery WordPress plugin. 
Continue reading the following paragraphs to discover the best food delivery WordPress theme.
​​Explore Awesome Food Delivery themes for WordPress sites
Build a great food delivery service by using a WordPress food delivery theme to create a website. Themeforest is the greatest site to look for food delivery themes.
This list includes WordPress themes that are either brand new or have recently been updated. This assures that they work with the most recent version of WordPress. Furthermore, they're all fully responsive; therefore, they'll look great on desktops as well as mobile devices.
Most importantly, these themes offer all of the delivery features you'll need as well as a great design, while others will benefit from the integration of a meal delivery plugin.
Our top selections for the best food delivery WordPress themes are listed below.
Foodeli is a unique and modern WordPress theme for food delivery.
This theme offers a design that looks good and works well on all devices, both food delivery websites and catering mobile applications.
Besides, it is also a responsive premium WordPress food delivery theme with 5+ niche homepage layouts as well as plenty of great features for pizzas, burgers, fast food restaurants, bakeries, cafes, catering, and tasty food stunning online store or online food ordering and food delivery services professional website.
You can also create a stunning food blog, lifestyle blog, cookbook, restaurant ranking, or recipe website using this theme's good-looking post layouts and easy-to-navigate sidebar, as well as SEO-friendly optimizing features.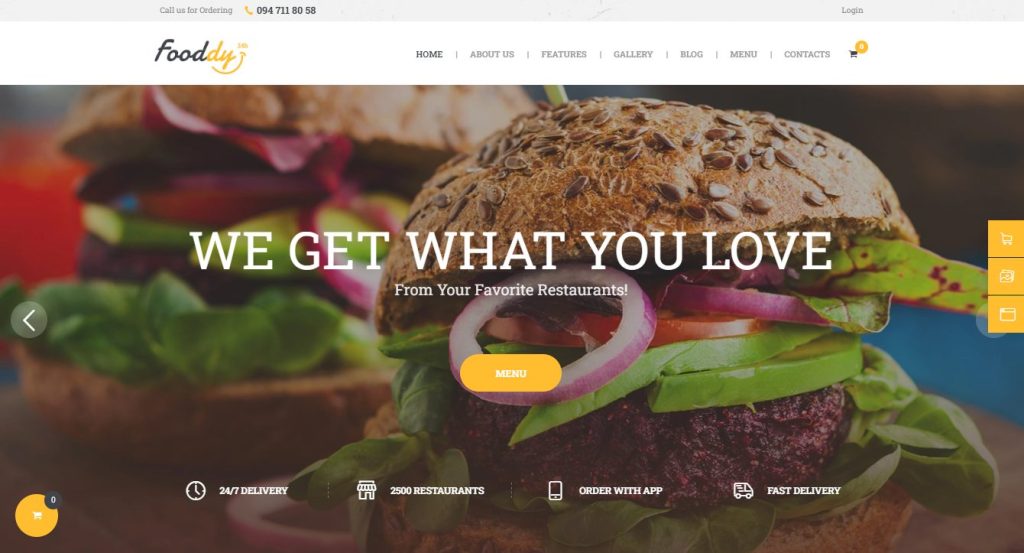 The next theme is Fooddy 24/7, a WordPress theme with a full-featured food delivery system. Fooddy 24/7 is an ideal option for online cafes, restaurant websites, sushi houses, pizza houses, and fast-food restaurants.
This WordPress food delivery theme will meet the demands of both restaurateurs who want a site to market their delivery service and businesses that distribute food from different locations. Indeed, the two main homepage demos can be customized to your desire, either a list of all various restaurants from which you deliver food or market your own.
As a result, customers can look for restaurants and place orders directly on the website. All eCommerce functionality is handled by the powerful WooCommerce plugin.
Besides, Fooddy 24/7 comes with pre-built content to enable you easily create your website with helpful content. There are several blog and post layouts, custom animations as well as built-in social sharing buttons. Fooddy 24/7 also uses the drag-and-drop editor in WPBakery to create new page templates.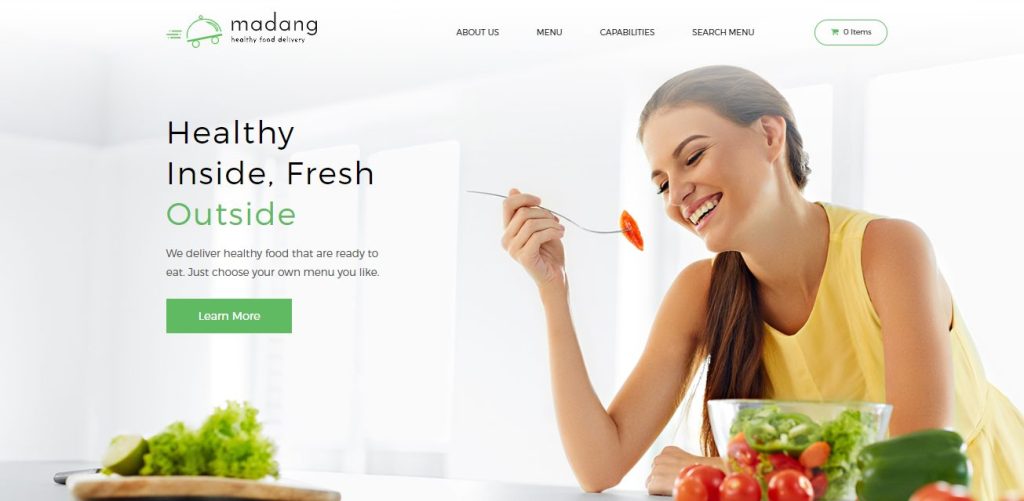 Madang is a unique theme due to its high-end design and strong functionality. This theme is ideal for healthy food delivery businesses thanks to its modern and fresh design. It has pages dedicated to nutrition programs, as well as specifics on dish menus and nutrition facts calculations.
With this theme, visitors can peruse the menu of meals according to their dietary preferences. You might rapidly deliver ready-to-eat meals or provide customers with the ingredients they need to make the meal themselves.
You can add the total number of calories and macronutrients in each meal, as well as the nutrition information label. Madang is highly customizable thanks to its various layouts, search filters, and other features.
Moreover, Madang, in reality, has the ability to support a wide range of food-related business models. You won't need other plugins for local shipments because it includes so many built-in features.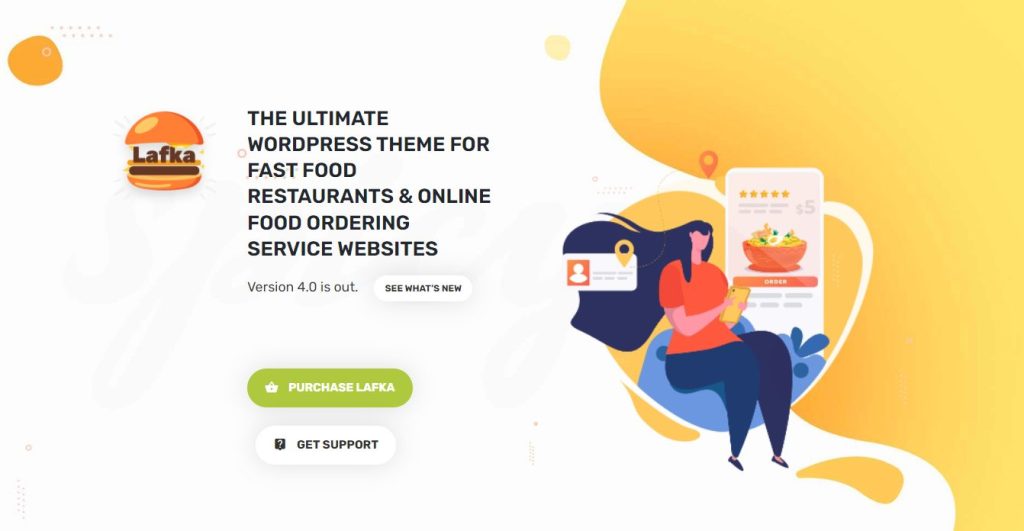 Lafka is an all-in-one solution for food delivery including fast food restaurants. Furthermore, even if you own a bakery or a sushi restaurant, you can create a page with Lafka.
Six unique, modern, and creative designs are included in the package and ready for you to use. This theme's features and templates allow combo products, variable add-ons, and product builders. As a result, your consumers will be able to tailor their orders and obtain exactly what they want.
Lafka is jam-packed with features, from customizable dishes, nutrition, and allergen information, to numerous food menu designs, cross-sells, drag-and-drop time tables, as well as Gutenberg compatibility.
In addition, the tool displays content really quickly, resulting in a great online food ordering experience. Of course, Lafka is mobile-friendly, allowing customers to buy food while on the go.
Furthermore, Lafka provides excellent WooCommerce payment integration. You may also turn on push notifications to keep your visitors informed about your services.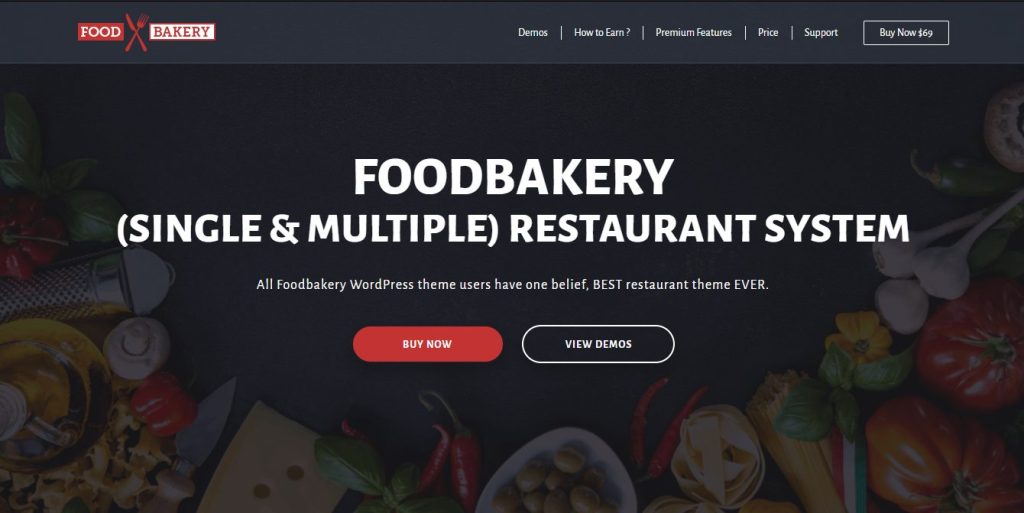 The FoodBakery Single or Multiple Restaurant system is a terrific restaurant listing theme with membership selections and listing owner packages.
Restaurants, merchants, and users each have their own dashboard. Its restaurant or merchant dashboard allows users to create a full restaurant menu with food products, make online bookings, and manage online orders. It also manages merchants' membership packages, revenues, and statements.
You can utilize the WooCommerce plugin to receive payments when it comes to monetizing your website. Besides, it is also possible to charge restaurants a monthly fee to be listed on your site and get commissions on each order they place.
Geolocation-based searching, social media logins, as well as support for allowing customer reviews are several of the plus features that might make FoodBakery the appropriate fit for your website.
Conclusion
Food delivery is more and more widespread due to its convenience in many ways, including a simple ordering system and the ability to have any favorite dish at home without having to cook it.
As a result, building a food delivery platform is now considered a long investment to remain afloat for any restaurants or food delivery businesses. Now, you may now want to learn how to create a website using a WordPress food delivery theme. If you are in trouble when choosing a theme, BoostifyThemes – Best Premium WordPress Themes will help you with the best themes. With BoostifyThemes, everything will be done at ease.