Recently, online learning has become increasingly popular. Taking online courses has never been so easy and simple. No matter who you are and what age you are, you can quickly join the demo sessions and sign up for online classes. With this growing trend, more and more teachers or those who offer education services build their own websites, aiming at attracting learners and selling online courses. To help create an attractive, user-friendly, SEO-friendly website, a great number of WordPress elearning themes have been created.
If you want to find a high-quality theme to build your elearning website, please continue reading our article. We will show you the best tips to choose the ideal WordPress elearning themes for your website.
You also can explore 5+ WordPress Landing Page Themes To Help You Get Started.
Why is it important to choose the right WordPress Theme?
In the world of online business, there will be different fields and niches covered. Depending on specific purposes and targeted customers, you will select a proper WordPress theme for your business. In case you want to have a food blog, you will need a theme that includes visual elements complementing the food-related content. All the elements in the themes are designed by programmers, and what you need to do is just apply them to your website. You can imagine it's just like fashion designers create clothing designs for you to put on. After all, the main point here is a good match between your site content and theme.
In addition to the look of the site, a WordPress theme affects how the website works. Many WordPress themes offer impressive layouts with eye-catching looks, but they create slow speed websites. It may keep your site not able to rank on Google, which is surely an unexpected thing. Therefore, it is best to get the theme that makes your site run smoothly. "Goodness is better than beauty is always the truth.
In short, themes are considered the face of every website and decide how users and Google appreciate your site. Then, please consider carefully before buying any theme.
Now let's read our article on Best Minimal WordPress Themes
5 Things to consider when picking the best WordPress elearning themes
The key thing people expect to find in a WordPress elearning theme is long-term use. To have such a quality theme, you need to learn how to realize the outstanding features that only can be found in reliable themes.
Responsiveness
We are living in the era of smartphones, tablets, and laptops, so this is the first and foremost criterion for all WordPress elearning themes. When it comes to online courses, learners will tend to find and learn them on a variety of devices. Therefore, a theme with responsive design will give you more chances to approach more and more learners. If your website cannot be displayed nicely on any devices they are using, they will be likely to say goodbye to your courses immediately after that.
Customizability
To make your elearning website work effectively, user experience is the thing you need to optimize. To do that, your theme must be customizable and extensible. A customizable theme will allow changing any elements on the site. Meanwhile, an extensible theme will include a simple codebase that you can customize or extend to improve the backend user experience.
Course builder
You create your WordPress elearning website to offer online courses, so a powerful course builder is a must to be included in your theme. Now the drag & drop interface is quite attractive and convenient. They allow you to mix and match different types of content and build engaging and interesting courses.
LMS Compatibility
It is essential to know that the eLearning platform will be limited in functionality without an LMS (Learning Management System). For example, you won't be able to track your learners' progress if you don't have an LMS with you. This is one of the main reasons why all the standard WordPress elearning themes should have built-in LMS features.
eCommerce Support
Once you build an elearning website, it is sure that you want to earn money from your online courses. The eCommerce support here means your theme needs to allow for different payment gateways so that your students will pay their course fees via them. To implement this, your theme should be integrated with eCommerce platforms such as WooCommerce and Shopify.
You may be also interested in Best WordPress Themes For Travel Blogs And Websites
Here are the 3 Best WordPress E-learning themes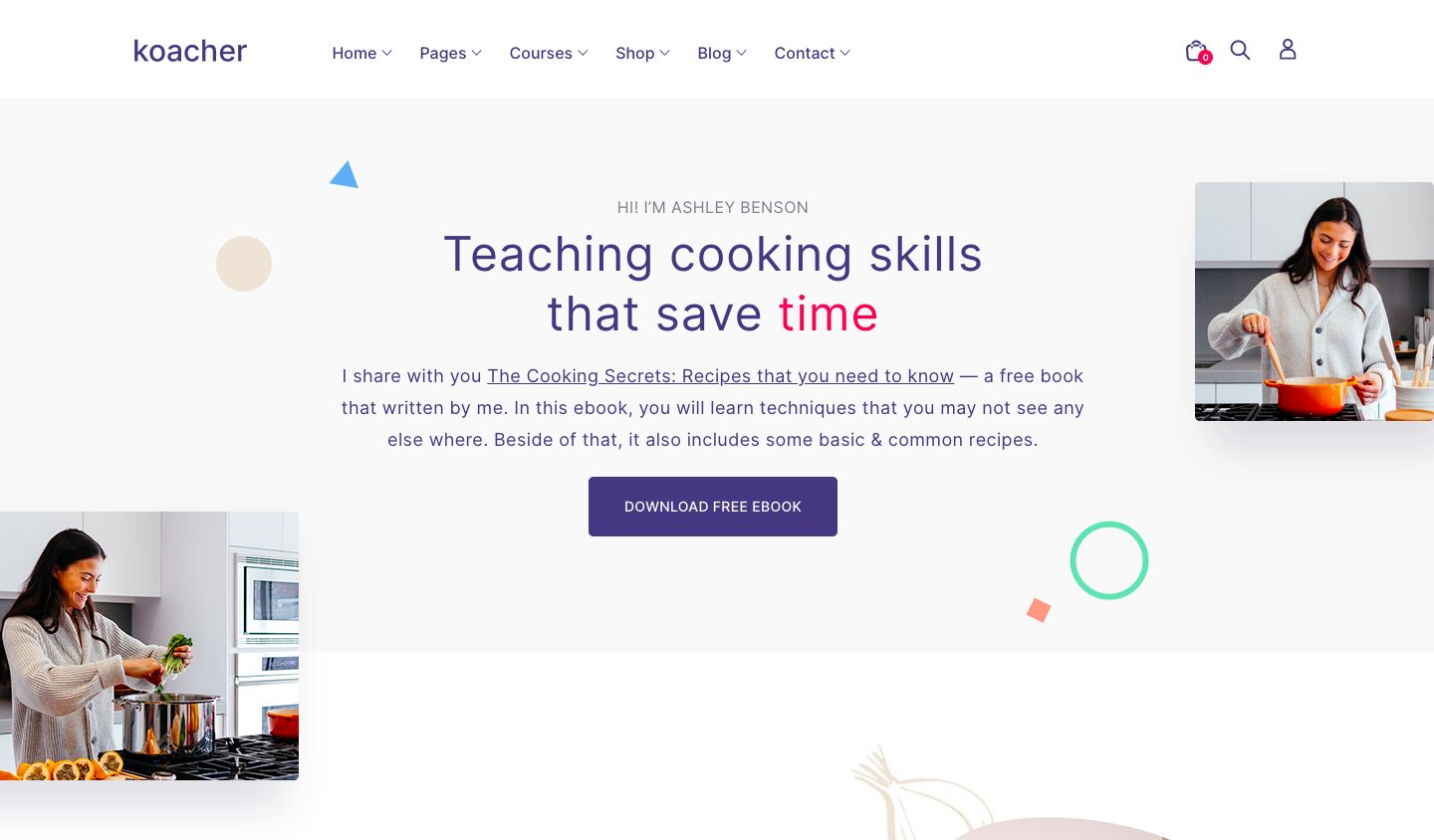 Koacher, which is produced by the BoostifyThemes team, is one of the most useful WordPress elearning themes for building online courses. It provides users with six built-in demos of coaches of life, health, kitchen, business, course portal, and distant learning. The number of demos offered will continue to increase, with more and more attractive layouts for many other areas of coaching.
This theme also meets the important criteria of a quality WordPress e-learning theme. One of them is LMS compatibility. Koacher is fully compatible with Tutor LMS pro, which is one of the most powerful LMS plugins. With a revolutionary drag and drop system, this built-in plugin allows you to easily create interactive online courses with lots of engaging learning activities. Tutor LMS also comes with many other outstanding features that help enhance users' experience.
In addition, there are four course card styles and two course listing layouts available for users to choose from. Depending on specific demands and purposes, you will select the most suitable one for your elearning website.
Pricing:
$59 is the standard cost with 6-month support from the BoostifyThemes team. Pay $76.63 to extend support to one year.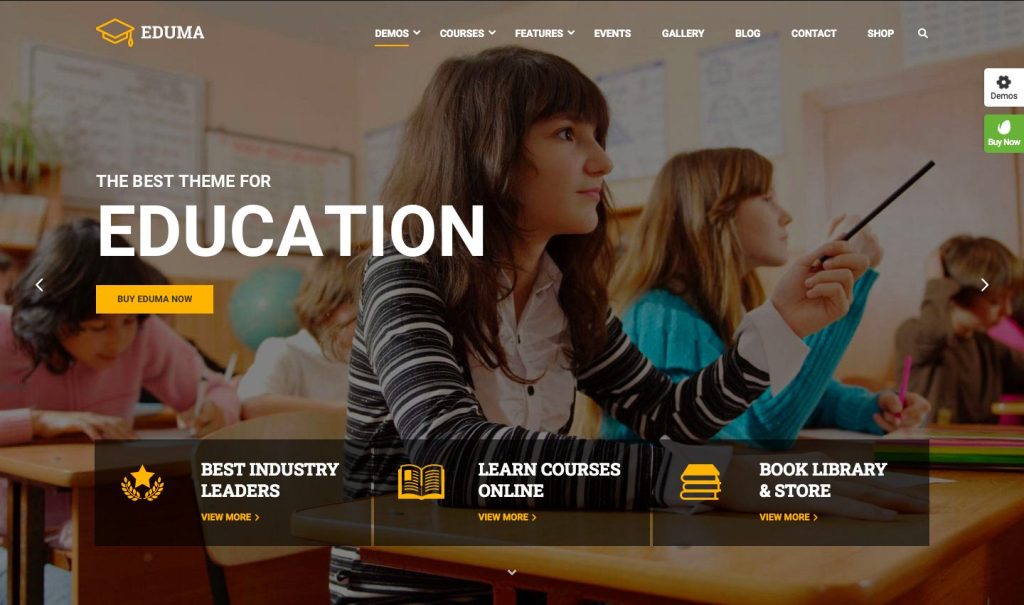 Eduma is a professional, SEO-friendly, mobile-friendly WordPress elearning theme that makes building websites easy and fast. As a modern, clean and multi-purpose WordPress theme, it is suitable for various educational purposes, from kindergarten, school to college, academy, university, and online training.
With over 20 demo homepages with different customization options, this online course WordPress theme allows you to build your own unique website. What's more, the theme is built with several WordPress LMS plugins, including LearnPress WordPress LMS Plugin, Brilliant LMS Courses Management, LMS Course Collection, and LMS Course Review/Rating. All of them offer many awesome features that very few WordPress LMS themes have.
To ensure a smooth user experience, the WordPress course theme offers many other great features. For example, AJAX helps users find courses more quickly while the Sticky Sidebar always allows seeing the menu even when visitors scroll down to the bottom. Along with it, Sticky Course Enroll Toolbar is also a unique point that attracts visitors' attention. The final highlight comes from the attractive Call to Action button placed at the bottom of the demos, which significantly increases the conversion rate on your elearning website.
Pricing:
$69 is the standard cost with 6-month support from the BoostifyThemes team. Pay $90.38 to extend support to one year.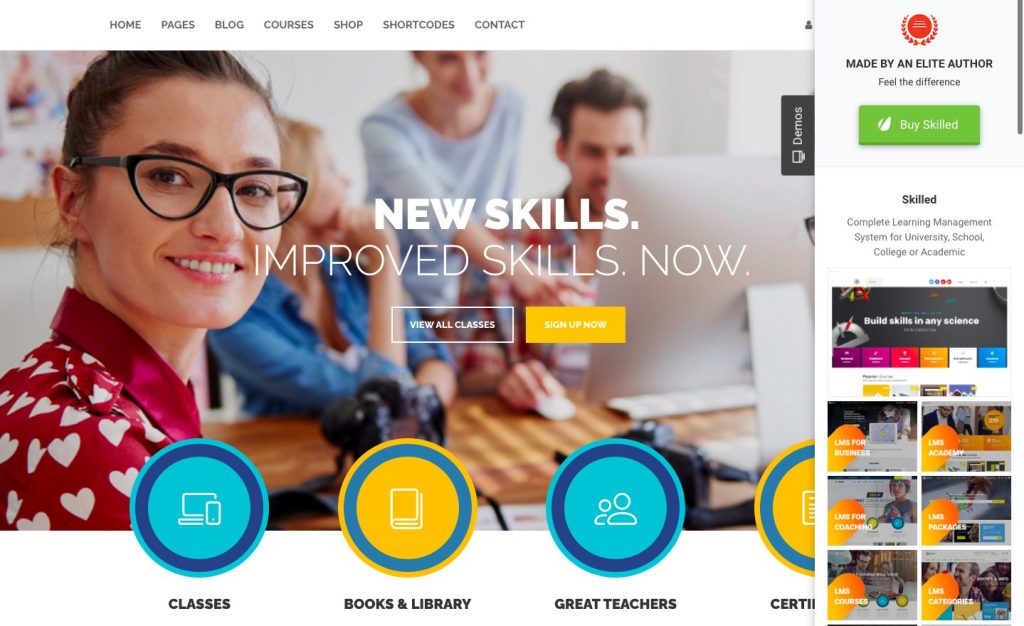 Getting over 2000 sales, Skilled is considered one of the best WordPress elearning themes for creating and selling online courses. With this theme, even without coding knowledge, you can still build an elearning website to suit whatever type of learning you want to offer.
The integration of WooCommerce and Sensei plugins makes it easier than ever to create online courses. Coming with a total of 6 useful widgets, Sensei assists users in creating numerous free and paid courses. The widgets of Quiz Grading, Question Bank, Easy Content Creation help you create lesson plans, add quizzes and create a bank of questions. Meanwhile, Sensei Course Progres and Course Analytics, which work as LMS systems, allow you to track courses' progress and provide course reports based on its detailed analysis. Finally, integrating with WooCommerce lets you charge for courses with multiple payment methods. But it is noted that Sensei is not integrated into the Skilled theme for free. You will have to pay for it.
When using Skilled, in addition to Sensei, you can enjoy outstanding features of many premium plugins, including WPBakery Page Builder, Ultimate Addons, Layer Slider and Timetable for WP. Once buying this plugin bundle with the Skilled theme, you will receive some discounts.
Pricing:
$60 is the standard cost with 6-month support from the BoostifyThemes team. Pay $78 to extend support to one year.
Together with Sensei, please explore the best WooCommerce plugins.
For a final word,
That's all about the instructions on how to pick the best WordPress elearning themes. We also have listed the top-ranking themes for building online courses. Each theme will come with different features, functionalities, and prices. Please carefully look at your demands and financials before coming to the final decision.
Thanks for spending time reading our article. If you find it helpful, please share it with your family and friends!