Booksellers always know how to attract customers with impressive book covers, or bookstore spaces with a certain style. When it comes to selling books on your website, a WordPress theme will be the best choice for you to develop your online bookstore.
Indeed, WordPress themes offer a specific set of features such as attractive design, WooCommerce compatibility, and so on. We'll walk you through the top 7 best bookstore WordPress themes in this blog. All that's left for you to do now is choose one and install it on your WordPress site. Let's get started!
How to find a good bookstore theme for WordPress
Before getting into the top 7 bookstore WordPress themes, we will go through some features that any bookseller should consider. They are:
#1 Responsive Design
When looking for a bookstore theme WordPress, a responsive design should always be your first priority. It increases the web's overall performance and keeps its visitors longer.
At this time, having a website that can automatically change to multiple screen sizes is very necessary. In a competitive industry, a website that is not compatible with mobile phones or tablet devices is no longer viable.
#2 Built-In SEO
Increasing more traffic to your online bookshop is the most powerful way to sell more books online. Optimizing for SEO is one of the most effective methods for any website to increase its traffic. Therefore, we highly advise you to select an SEO-friendly WordPress theme.
A WordPress theme with built-in SEO optimization will have several dedicated features and plugins that have been included explicitly to optimize search engines. It will enable you to add keywords, tags, and other important SEO terms to your website, allowing it to rank higher in SERPs.
#3 Compatibility with WooCommerce
WooCommerce is a WordPress open-source plugin that converts basic operating systems into ready-to-use e-commerce stores. If you want to start an online bookshop, your theme should be compatible with this plugin.
When you use a theme with WooCommerce, you get instant access to a ton of features, especially customer engagement and order tracking. It is easy for you to enhance your online sales and help your customers to quickly make their purchases online or chat with sellers.
Furthermore, the themes that are WooCommerce-compatible will give a more reliable and secure environment to operate your online business.
#4 Call-To-Action Options
Because you're building a WordPress website to sell books, having a large number of visitors won't help you if none of them buys your item.
It's time to add the Call-To-Action feature that encourages visitors to buy your books. Therefore, it is advisable to consider selecting the bookstore WordPress themes including built-in CTAs when making your choice.
#5 Ability to Customize
Customization options are critical in web design. A custom theme allows you to customize the templates and create a website that meets your needs. A decent WordPress theme will always have a number of easy-to-use customization options.
Compared to premium WordPress themes, free bookstore WordPress themes often do not provide- many customization choices. However, the majority of them enable you to modify the logo, title, fonts, colors, and content of the website.
A successful bookshop needs a unique visual style or appearance. You should use a simple theme that is fully customizable for an online book shop.
#6 Plugin Support
Built-in plugins will help to extend certain functions or offer new features to your website. So, whenever you look for the best WordPress themes, go for one that offers plugin support.
#7 Team Support
When installing WordPress themes, you're likely to run across a variety of technical difficulties. In some situations, the only way out is to seek assistance from the technical staff. Therefore, selecting a theme provider with a dedicated support team for your service is essential.
Now let's move to the top list of bookstore WordPress themes for your online shop!
Best Bookstore WordPress Themes for Selling Books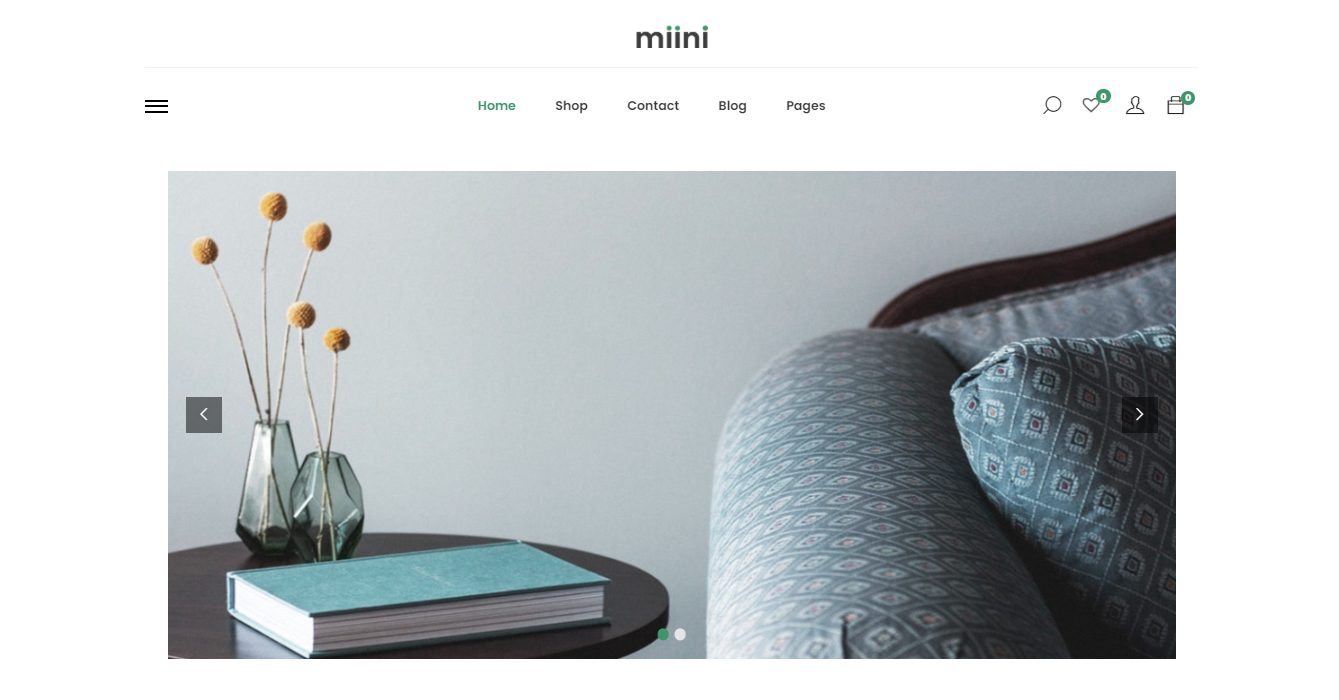 Let's start with Miini, the first theme on our list. This is one of the best WordPress e-commerce themes for creating an appealing design for your book-selling website.
The theme features a unique, modern, clean, and cheery appearance with various features like a sidebar, shopping cart, checkout, wishlist, and so on.
Because Miini is built on the flexible WooCommerce plugin, you can sell physical books as easily as digital eBooks on your website.
It also comes with over 30 built-in shortcodes which help you to create buttons, columns, tabs and develop your web pages more quickly.
You also will want to explore the Top 5 Best Minimalist WordPress Themes For Online Stores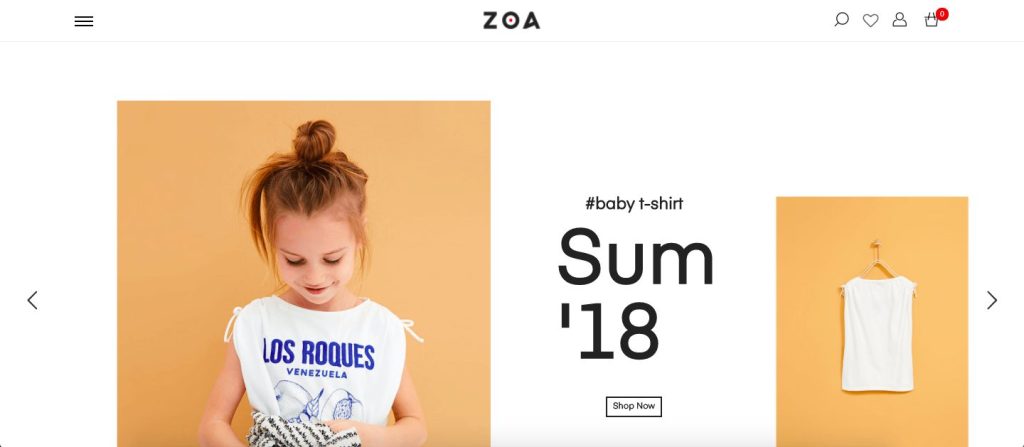 Zoa is a minimal WordPress e-commerce theme that uses the Elementor page builder. With a light and modern background, Zoa is certainly one of the finest options for your online book shop.
Zoa comes with 16 pre-designed homepage layouts, providing you with plenty of options for creating your product pages and adding many features.
Furthermore, the web design is visually appealing, highlighting all of your books and publications to their fullest benefit.
Zoa, on the other hand, isn't particularly mobile-friendly, since the header slider photographs don't quite suit the width of most mobile devices. As a result, the product photos under the header will have problems loading on mobile devices.
Now go to visit Elementor WordPress themes to get more themes built with Elementor like Zoa.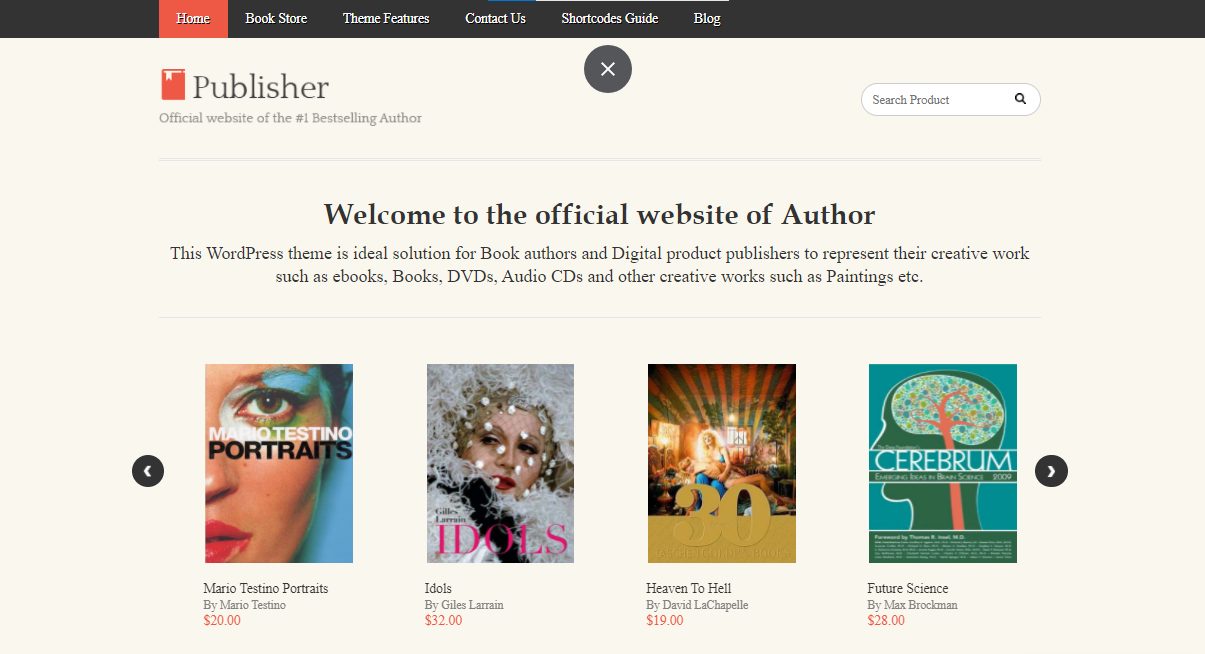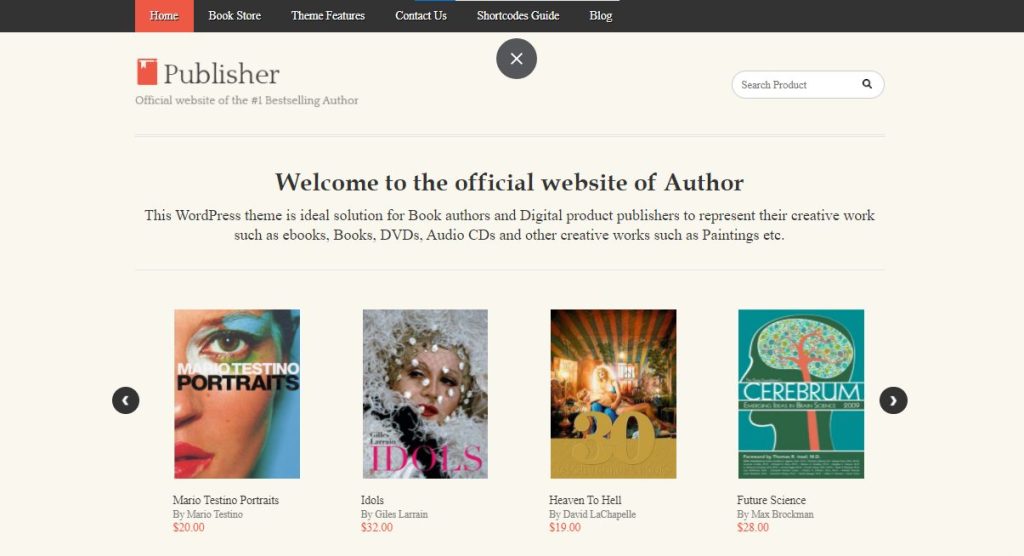 The Publisher WordPress theme is perfect for promoting your eBooks or other digital items on the web. It simplifies the process of advertising and selling books and ebooks on the Internet.
With a variety of pre-made pages and special choices for different niches, you can rapidly create an Author page to establish an online presence and communicate with your readers using the built-in blog page.
The Tevolution and Templatic Digital Downloads plugins are integrated into the theme. Although the theme is designed to work with WooCommerce, you can use the Digital Downloads plugin to create an eJunkie store or just include Amazon links.
Moreover, you can show author information, new books, videos, and relevant links in the sidebar section. It works well with the WPML plugin to build a multilingual website.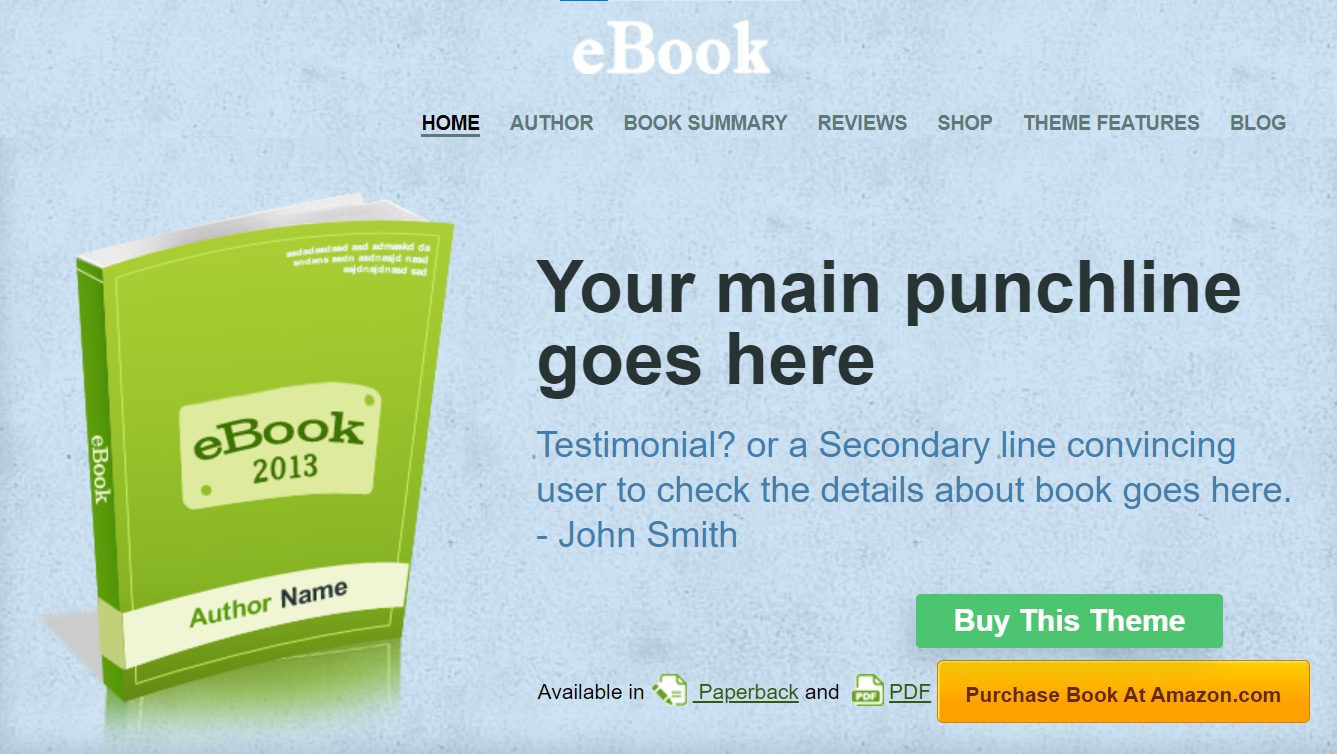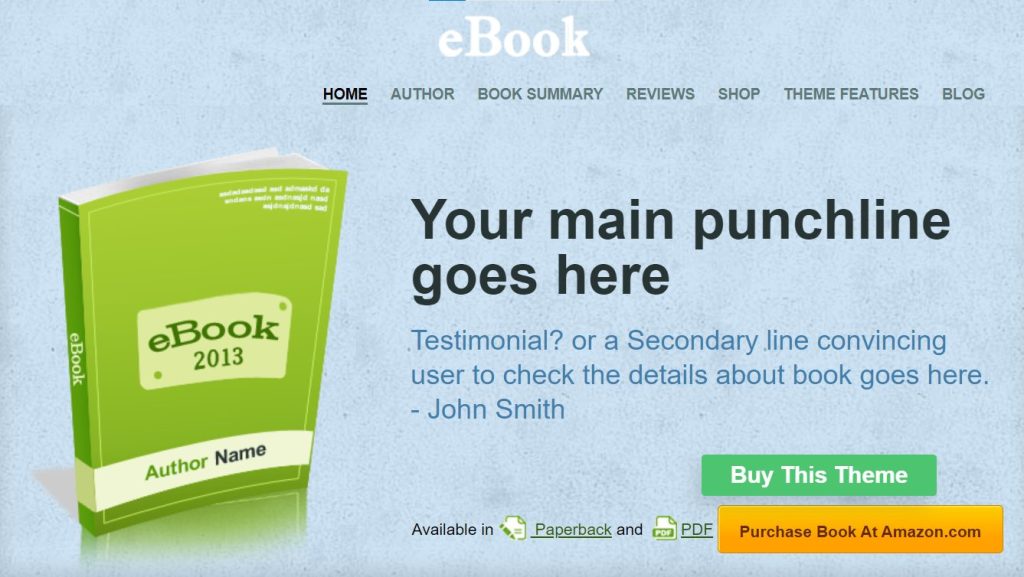 eBook is one of the best free WordPress themes for selling books. It is designed for book authors to advertise their eBooks and increase sales online, as the name suggests.
The theme with a responsive and mobile-friendly design is ideal for people who want to get started as quickly as possible because of its basic design and setup.
This theme provides full shipping and tax control with the WooCommerce plugin, which is specifically built to enable you to sell both digital and physical copies of books and other items.
It has a widget-ready homepage that can be easily customized with a single click. The built-in mega menu allows you to go beyond the standard drop-down menu bar and give your website a more stylish look.
The eBook WordPress theme has a visually attractive call-to-action area to convince your readers to take action.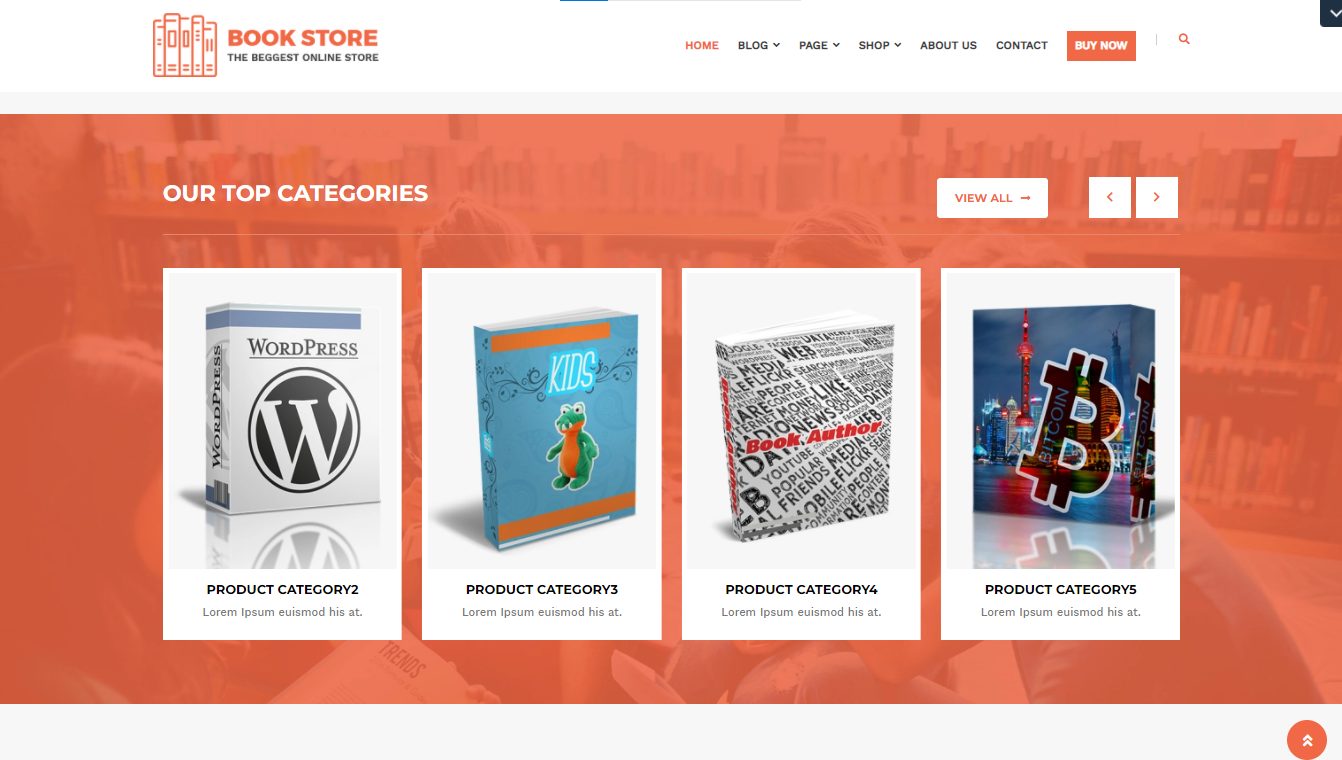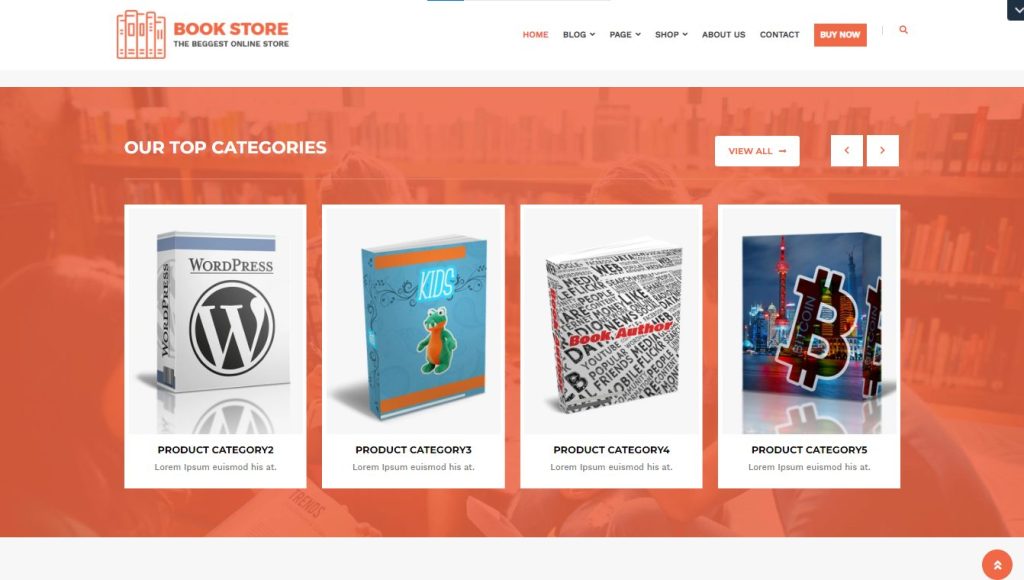 Ultra, designed by Themefy, is a professional WordPress multipurpose theme with lots of flexible layouts and features.
This theme comes with pre-built demo sites as well as design skins. The skin not only affects the appearance of the site but also allows you to quickly set up a test site.
Every part of your website will be completely under your control. It is an extremely adaptable theme that can be used to build websites for your bookshops.
The WooCommerce integration allows you to use this theme to create a fully functional bookstore. Ultra is also built using best practices in search engine optimization (SEO).
The websites built with Ultra have a really edgy appearance.
Despite the fact that Ultra appears to have a robust set of features, it is preferable that additional templates are necessary.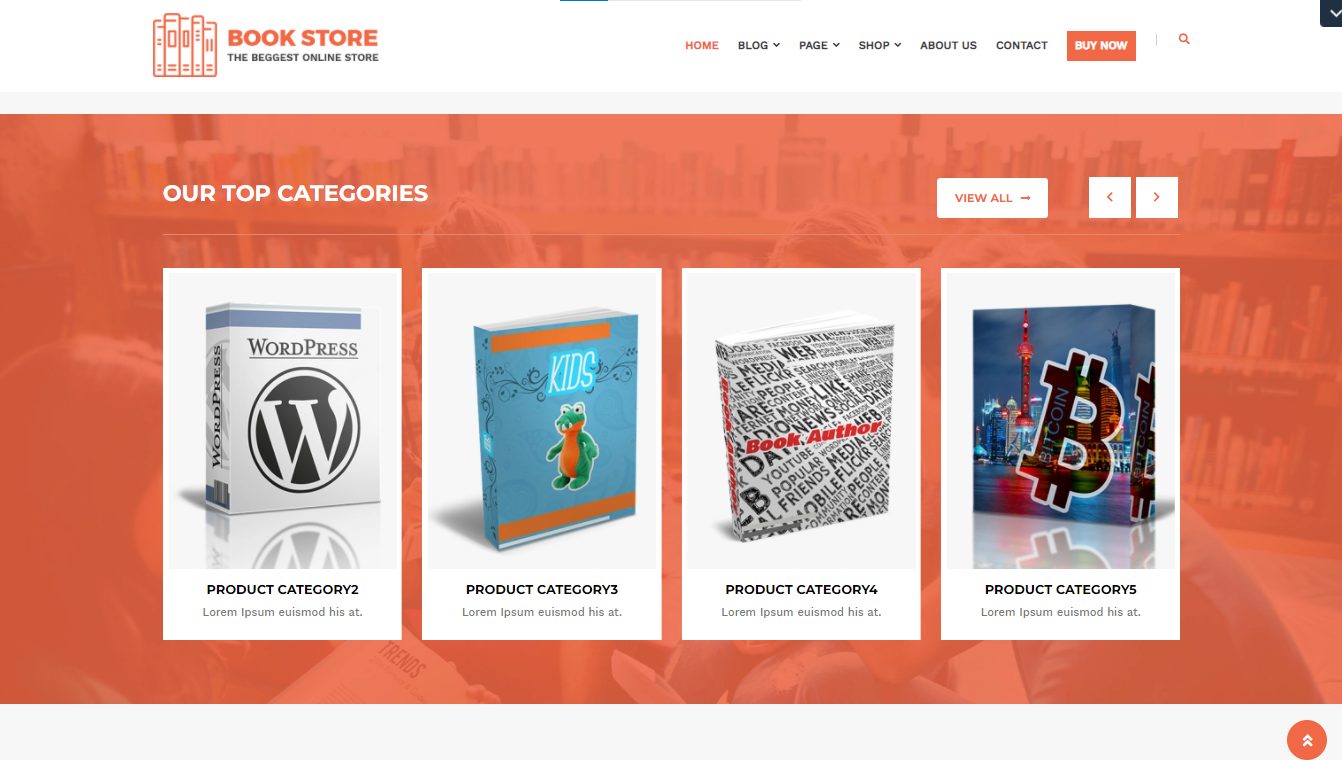 VW Bookstore must be listed among easy-to-use and simple bookstore WordPress themes with lots of customization features.
This free WordPress theme is flexible, quick, and trustworthy. You can create book stores, online libraries, and online/offline reading clubs using it.
The layout of this theme is engaging, with well-placed sliders and banners. If you don't like the default layout, you can change it with a variety of settings.
Besides, VW Book Store provides an easy-to-use interface with a lot of customization choices. It allows changing the background, color, graphics, banners, and sliders of your theme.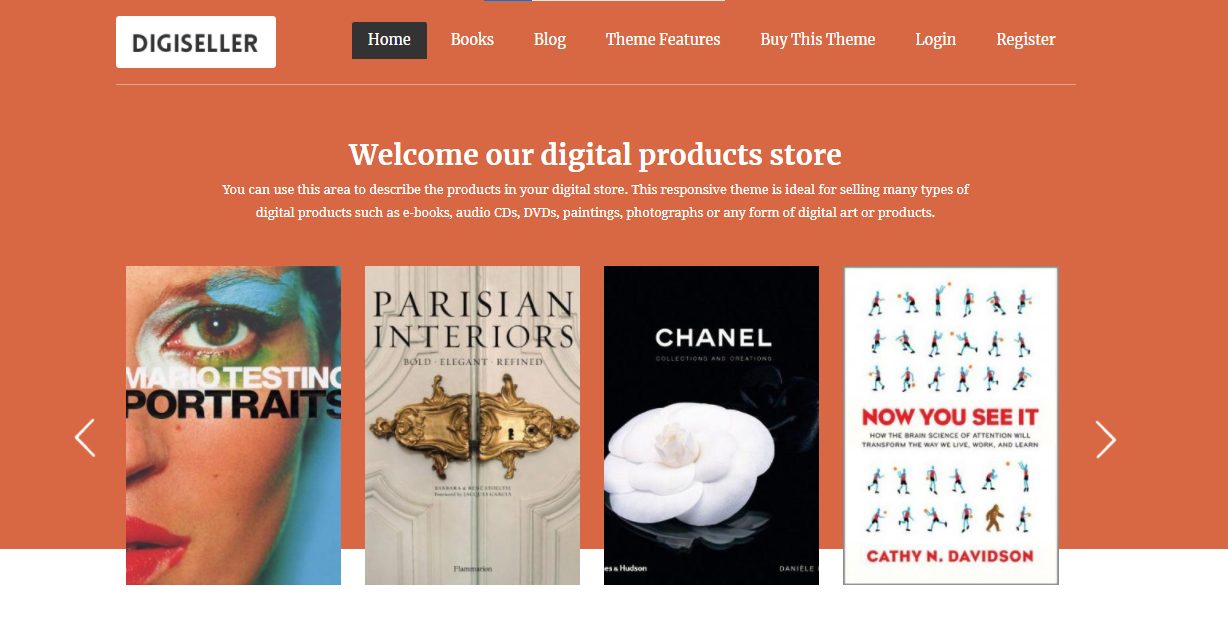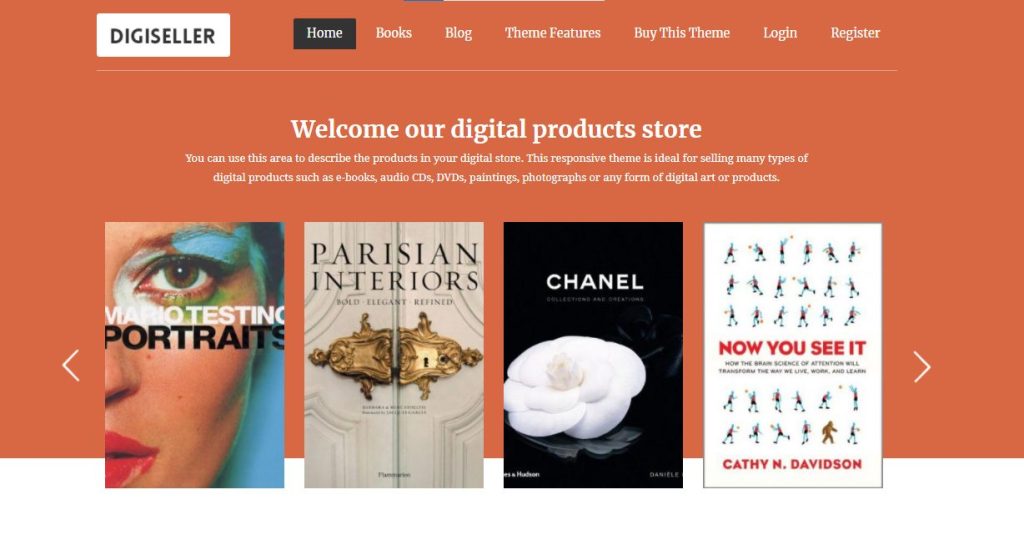 Book Author is the last name in our review list for those looking to sell books online. This theme is designed to look excellent on all platforms, with responsive and mobile-friendly layouts.
Book Author provides an attractive homepage with a product slider. This built-in product slider makes browsing your eBooks by category a breeze.
This theme also has a catalog mode for presenting all of your works in the most appealing way.
To create your personalized online store, Book Author is compatible with Digital Downloads and WooCommerce, the two most popular eCommerce plugins on the market.
Unlike other bookstore WordPress themes, Book Author includes some of the industry's most popular payment gateway modules, giving users more convenient online payment options.
Which bookstore theme is best for you?
If you're an aspiring author, poet, writer, or just a bookshop, you should start building your online bookshop straight now. But before choosing any theme' have a look at all of the features to determine which one is right for you.
To effectively launch your online store, you'll need a great base first – and that base is a responsive, feature-rich WordPress eCommerce theme. The bookstore WordPress themes listed here will provide you with a well-optimized design and deeply customizable settings to meet your needs, thus helping you achieve your business target.
We hope you found the information useful, and if you did, please share it with your friends and colleagues who are interested in starting their own online bookshop. Thank you!