If you're struggling with picking an artistic WordPress theme for your website, this is the post just for you.
In many previous blog posts, we guided you with multiple simple tips for building and designing your website, so you can refer to other related articles to support you further.
In this article, we will give you the 13 Best WordPress Themes for Artists, so you can have an easier, more successful start in developing your website later.
Before diving into more detail about these excellent artistic WordPress themes, let's get started with straightforward ways to go for a WordPress theme for artists fitting with your ultimate goals!
How to choose an Artistic WordPress Theme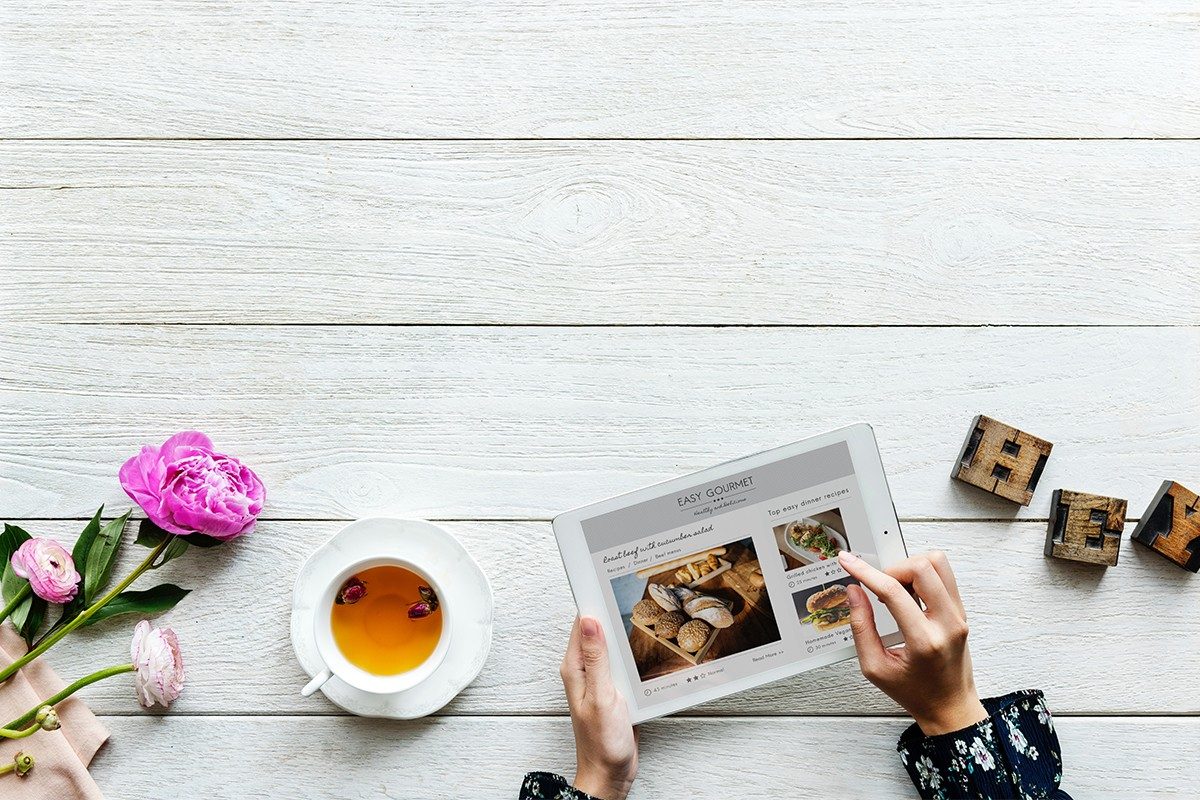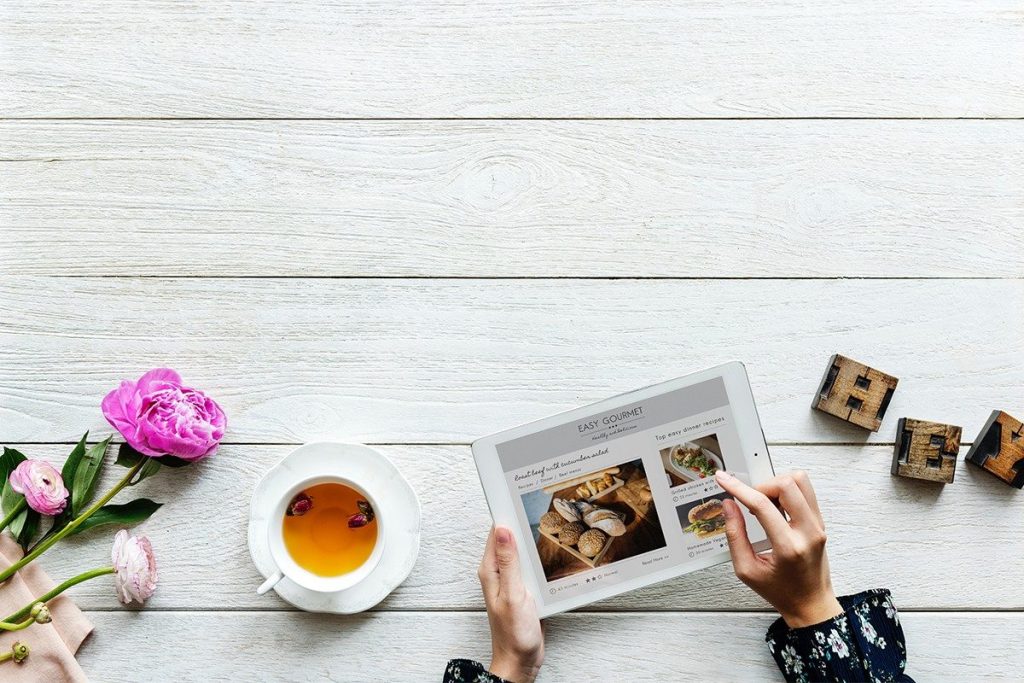 Nowadays, it seems that you can easily design your website with WordPress art themes effortlessly. However, knowing how to choose an artist WordPress theme will save you time and effort while optimizing your work efficiency.
Here are several outstanding features that you can take notice of when choosing the most optimal WordPress themes for artists:
SEO Optimization
The first and foremost sought-after target when building an artistic WordPress theme is Search Engine Optimization (SEO). The reason is that users can access your website smoothly on your website attributable to your SEO-standard theme. What's more, your website will definitely look appealing and become more user-friendly than ever.
High Responsiveness
Besides, it'd be essential to be aware of the importance of improving the active responsiveness for your website right when your website attracts a huge volume of users on the Internet to arrive and visit. It will be a pity if you ignore the importance of the visitor experience.
User-friendly Design and Easy Customization
Another criterion of going for a wonderful artistic WordPress theme is owning a minimalistic, easy-to-see and user-friendly layout so that visitors can easily receive and find convenient information. And don't forget an important thing to decide whether an artistic theme really brings a lot of utility and efficiency to you or not is the ability to easily change the theme.
Of course, choosing an artistic WordPress theme is extremely important in developing your website because of a beautiful, quality interface like a 15-second "elevator pitch". You can make a good impression with users before they have a chance to learn what you are offering.
Best WordPress Themes for Artists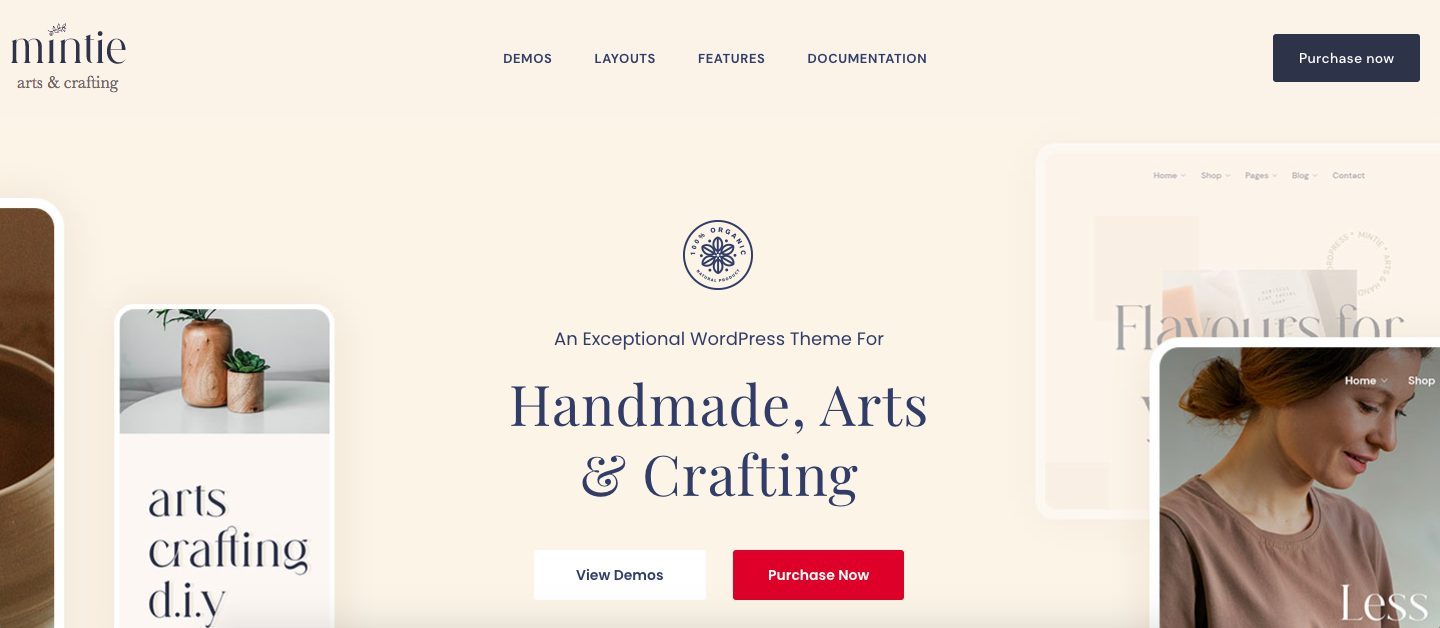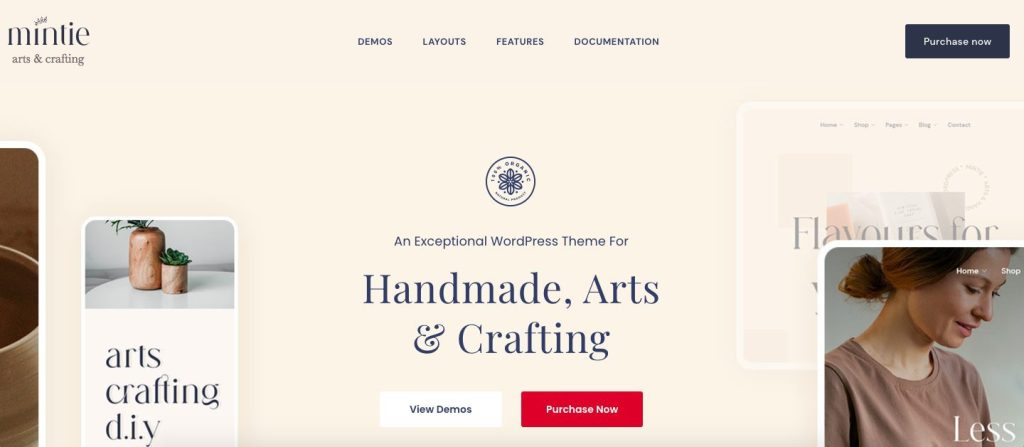 Mintie may not be on the first list that you can find in many other articles about Best WordPress Themes for artists, but today in this article, we'll prioritize mentioning Mintie as the first theme in the list of the 13 must-try artistic WordPress themes.
The designs selected at Mintie will surely attract you by the light, gentle but no less modern tones even though it is an art and crafts WordPress theme. Mintie is a WordPress theme for artists suitable for a variety of websites, but it would be a better choice for eCommerce websites specializing in selling crafts, art, and exhibits.
On Mintie, you are equipped with more than 9 available demo homepages including wonderful features that help you to attract a huge volume of potential customers right when arriving at your website. It's compatible with a variety of WordPress plugins such as Elementor Page Builder, Contact Form 7, and especially WooCommerce.
Visit the review posts below to know more other themes for WordPress sites: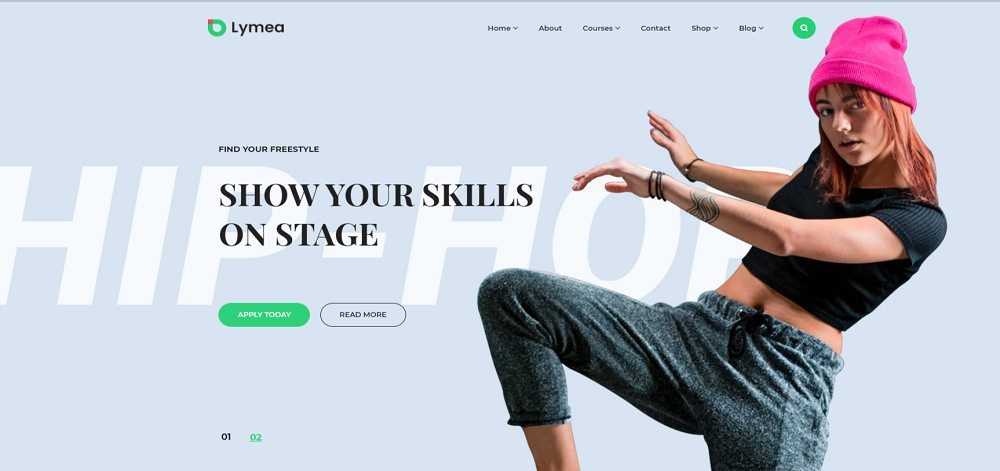 Lymea is truly a theme for artists that you are sure to be immersed with its incredible features. This theme focuses more on education. It sounds you have limited options to access in Lymea. However, that is really a wrong perception because it allows you to find many different demos with many purposes of courses, academies, art classes and much more.
Lymea was inspired by practical demands from users or service providers. It currently offers more than 6 homepages with elegant and unique designs.
With its one-click ease of use, Lymea also scores with users because it allows you to use many beautiful theme demos without paying any fee for it.
If you are building a website related to Education, don't miss a great artistic WordPress theme like Lymea.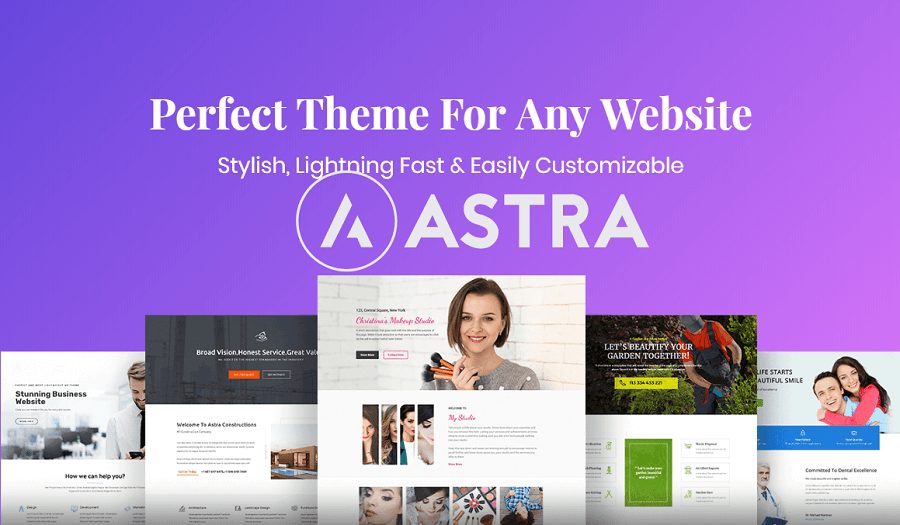 Astra, one of the best WordPress art themes, is worth trying right away because of its many prominent features. The most noticeable feature that you will love at first sight with this theme is its simplicity, flexibility, and easy customization with thousands of different options.
Besides offering attractive artist portfolio WordPress templates, Astra is designed for standard SEO optimization and has clean code.
Astra is available to download and use for free. With only approximately $59, you can have a premium account to access more advanced features. Why don't you try it now and give your website a try without spending too much money but it's easy with Astra?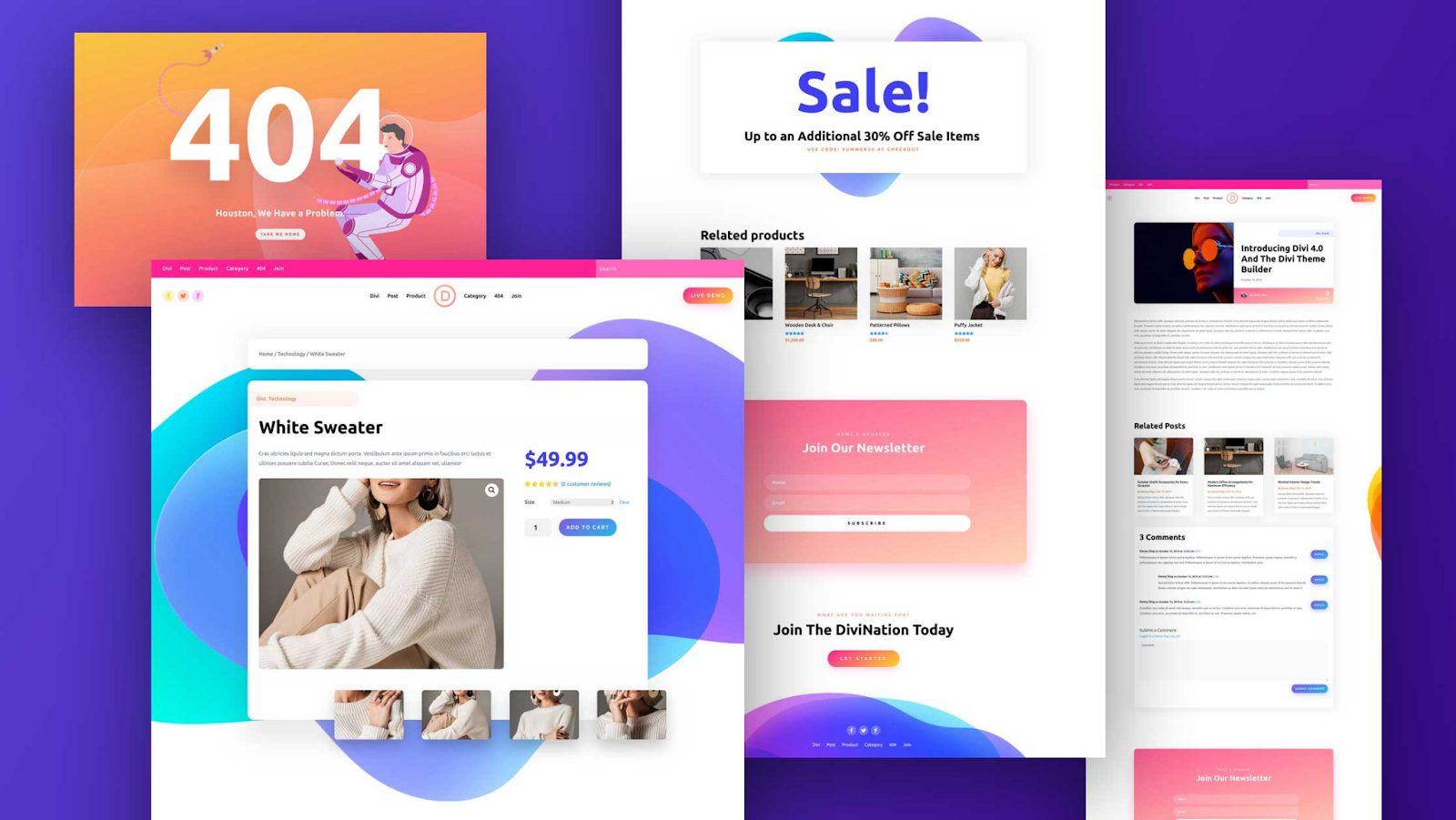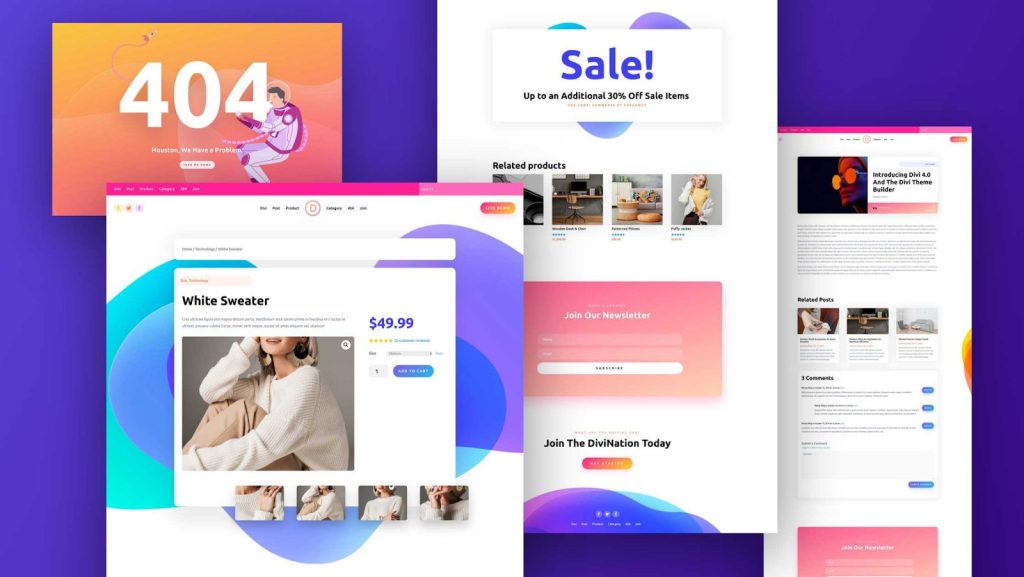 Divi is also a versatile WordPress theme for artists that you can choose and design for your website. In fact, if you compare the attractiveness of the WordPress themes demos at Astra with Divi's, then maybe Divi will be weaker. However, Divi gives you a multitude of options that are available for free to experience or you can change and customize according to your preferences.
Divi will be a perfect art theme for you to use no matter what kind of your website is. What's more, The Divi Builder is also aware of the essential role of users' experience when it comes to improving the quality of loading pages, dragging or dropping easily when you want to change.
Divi charges you an annual fee of $89 or a lifetime fee of $249 to use all of the options offered at Divi. I think with the above price levels to build a great look for your website it is totally a value-for-money theme for artists!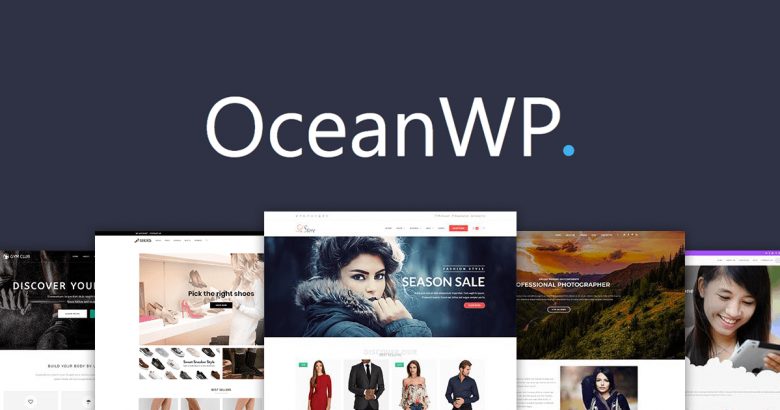 Pay a visit to OceanWP and you have a great chance to access multiple collections of website template demos that you can look for here. Users can try awesome theme intuitive demos just with just a click. Allowing practical experience will help users find it easier to select the right one for their needs in the website-building process.
OceanWP is also doing a great job in supporting a quick set-up on Cloudways servers for your WordPress with just a click. It undoubtedly powers up the first steps in your web design process, especially for beginners.
The interesting thing is that you can sell your art products on the Internet because OceanWP allows artists to link with WooCommerce as well as integrate with Instagram.
Like Divi or many other best WordPress themes for artists, OceanWP also offers you many different choices to match with any type of website that you are developing.
The price of this theme varies with the cheapest for individuals being $27 annually and $77 per year if the users are agencies. Super affordable, isn't it?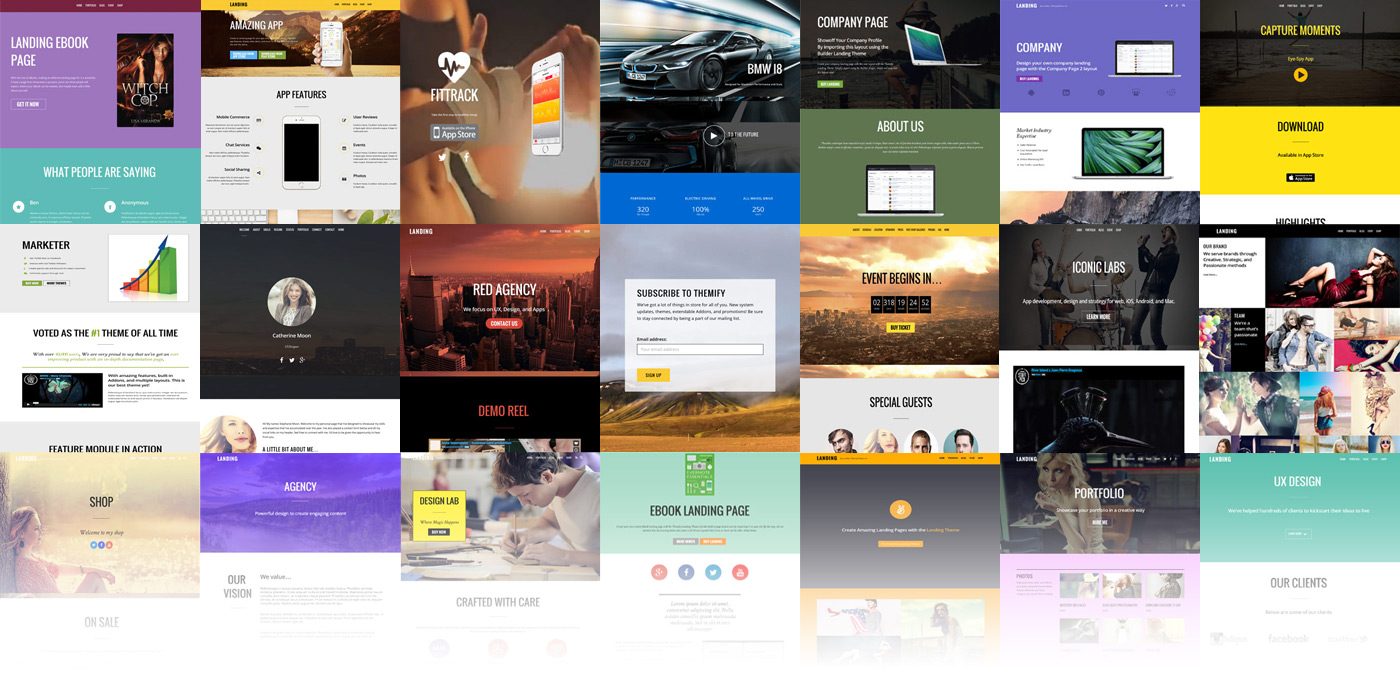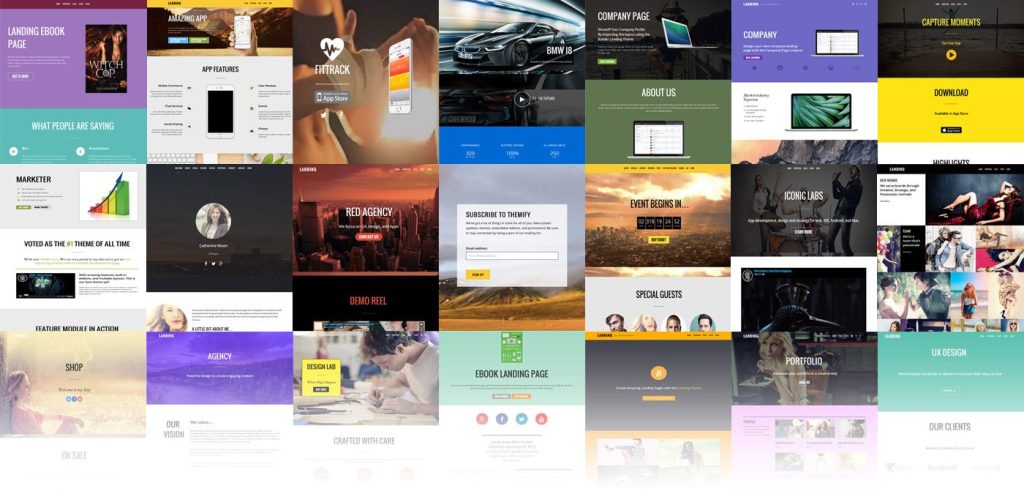 When it comes to the best WordPress themes for artists, Ultra is a powerful theme that you shouldn't miss. You will be attracted by a range of interesting, beautiful, unique designs so that you can easily pick the best theme demo for your website effortlessly.
At Ultra, there is no doubt that even beginners can use it to create a distinctive website without any difficulty. This theme is a perfect choice if you have the intention of using it to launch your blog, portfolio or your business website. Ultra also brings visitors a sense of excellent interaction. Visitors can actively customize thanks to SiteOrigin's drag and drop Page Builder plugin even when you do not know anything about writing code.
Furthermore, this theme also assures SEO optimization to improve the quality of loading pages quickly and boost your website traffic as well.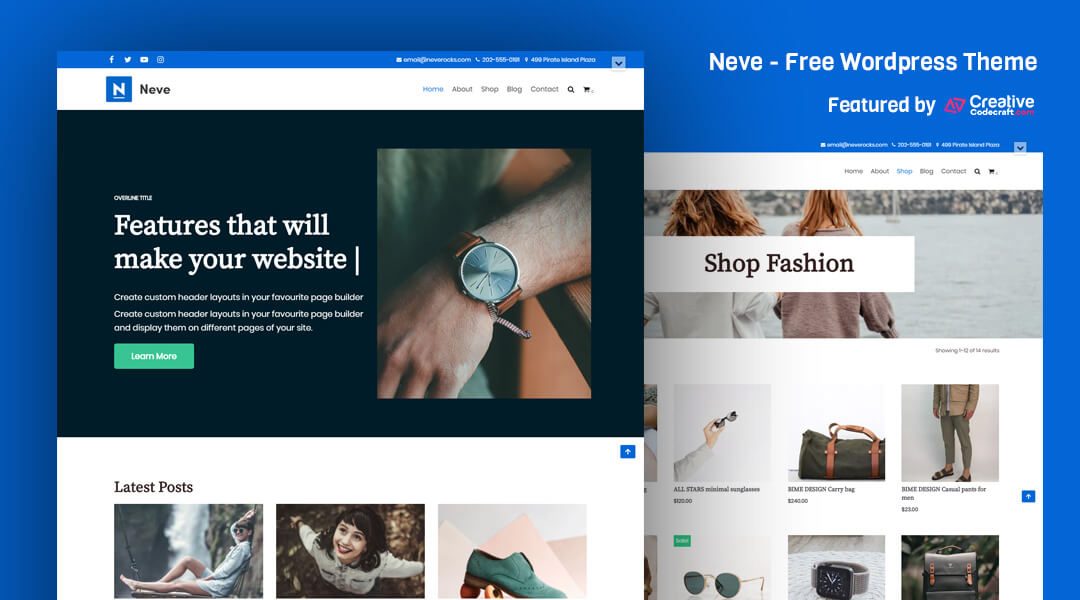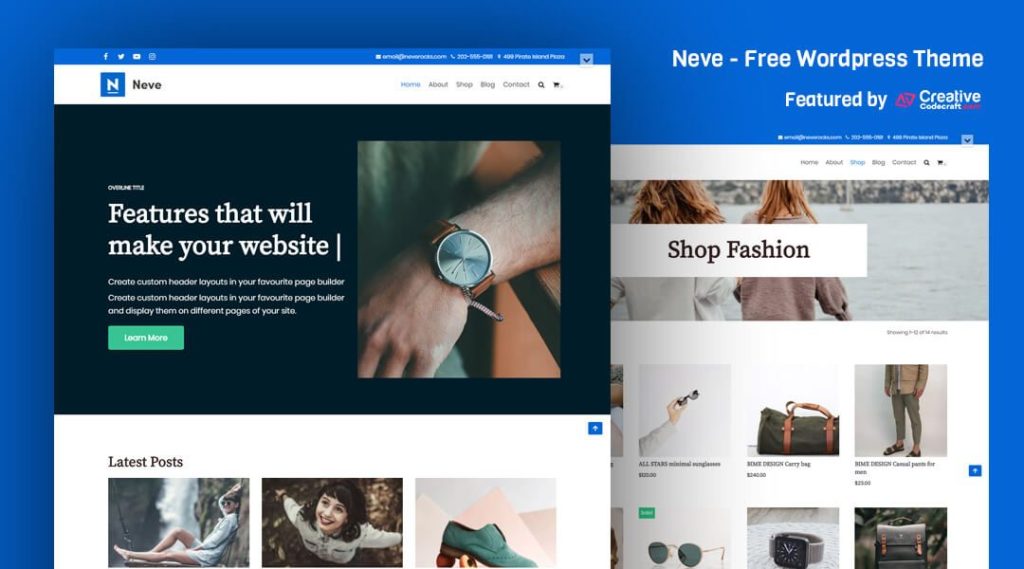 Neve is regarded as one of the leading WordPress themes for artists that we highly recommend using. Neve is committed to reducing page-loading time with a great effort to bring users the best experience when they use it for their website
Neve can help you with the SEO optimization of your website to give your website an advantage on search engine rankings.
Objectively speaking, I really like unique designs, non-mass-market but focused on many niches so that no matter what your website is, you still can utilize Neve for a fantastic design. One more feature that makes you definitely love Neve is that it is compatible with many different WordPress plugins and free to use.
If you want access to premium demos or prioritized options, you'll have to pay at least $59.
With massive unique and diverse designs that you can customize to meet your favorite tastes, why not visit Neve to explore more interesting things?
One of the best WordPress themes for artists I'd love to mention in this post is Hestia. As a professional designer or freelancer, you can completely create artist portfolio WordPress themes.
Users will feel extremely excited to see large beautiful images right on the page template. You will also find it easy to link to e-commerce sites as well as reliable WordPress plugins.
The designs on Hestia are modern, fresh, and give you a variety of suggested choices as well. The speed of loading pages is excellent, and in turn, you will not have any reason to complain about your experience on Hestia.
Hestia is available for free, then visitors can use any art theme demos. However, it will cost at least $69 for advanced options on Hestia. So, depending on your needs, you can freely choose the optimal way to choose and design it.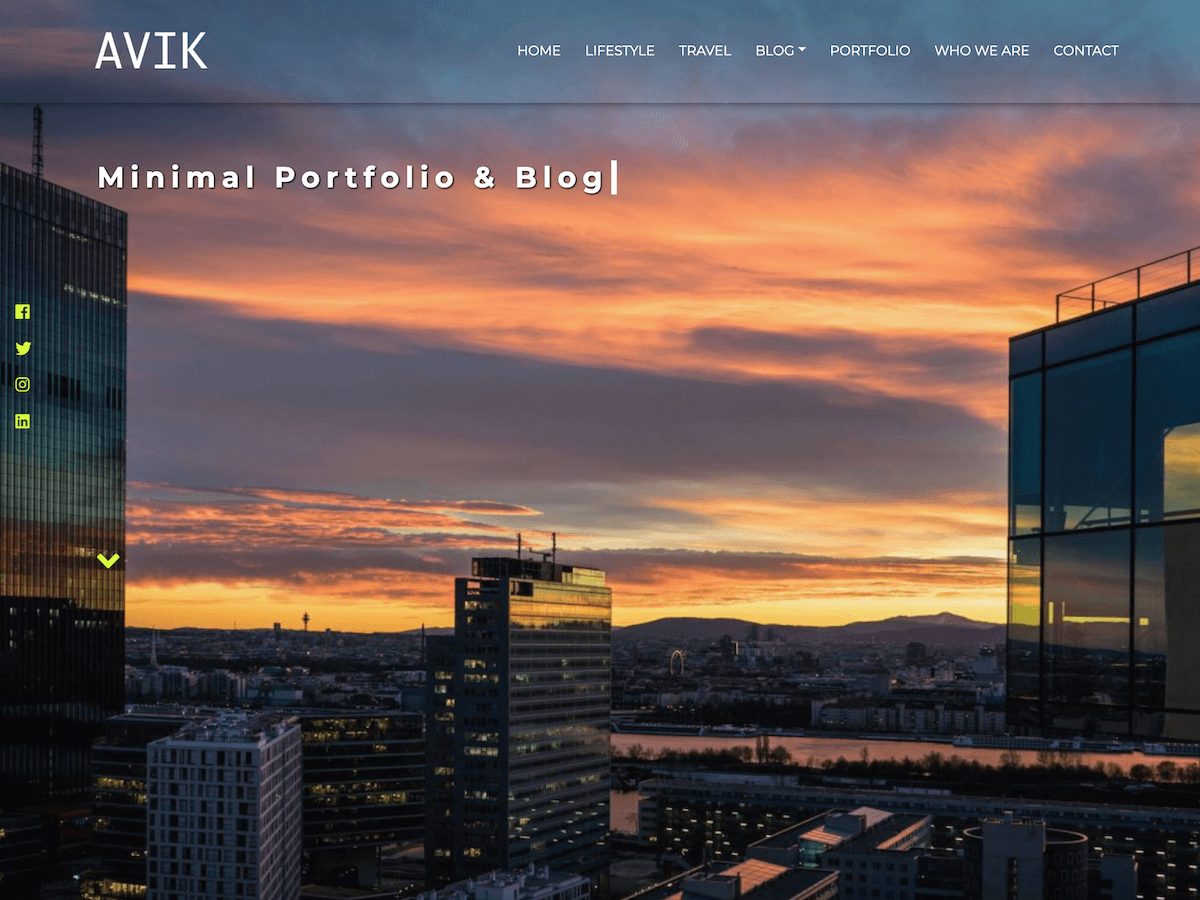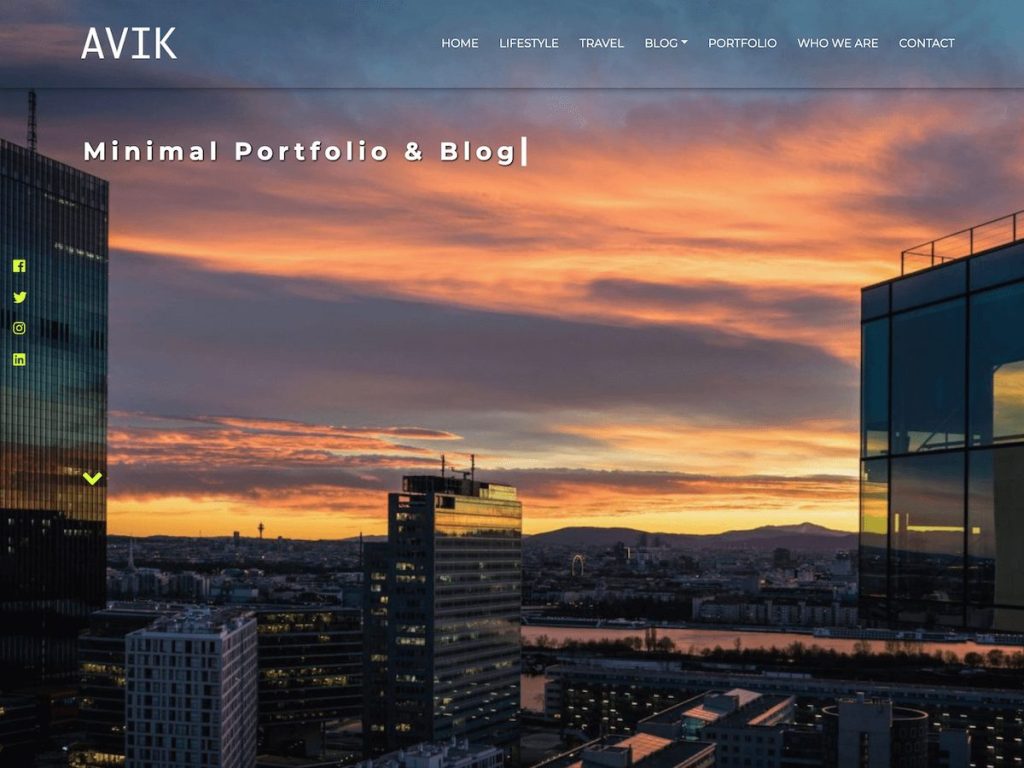 When it comes to the top-ranking WordPress themes for artists, Avik is a must-have theme in this list.
This artistic WordPress theme has clean coding and allows you to search for more details easily thanks to its friendly-to-use navigation. Avik is flexible in the ways you can place major features such as portfolio themes, your photos, and so on.
If you want to create impressive, stimulating and attractive designs that attract users' attention at first sight, Avik is created for you. In addition, you can customize colors and easily use RTL languages.
One more benefit that you'll be excited about is that you don't need to pay any fee to use any demo or edit on Avik.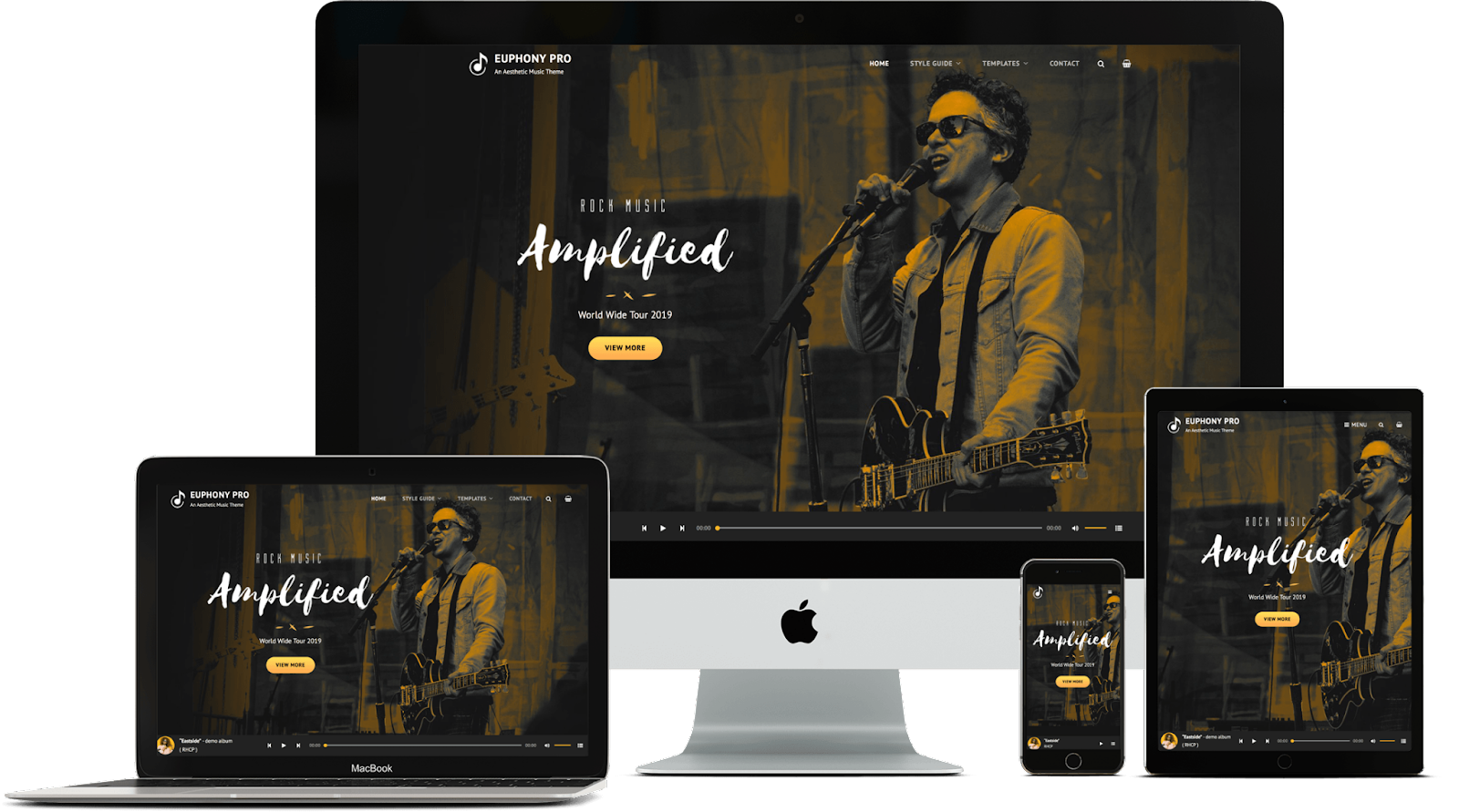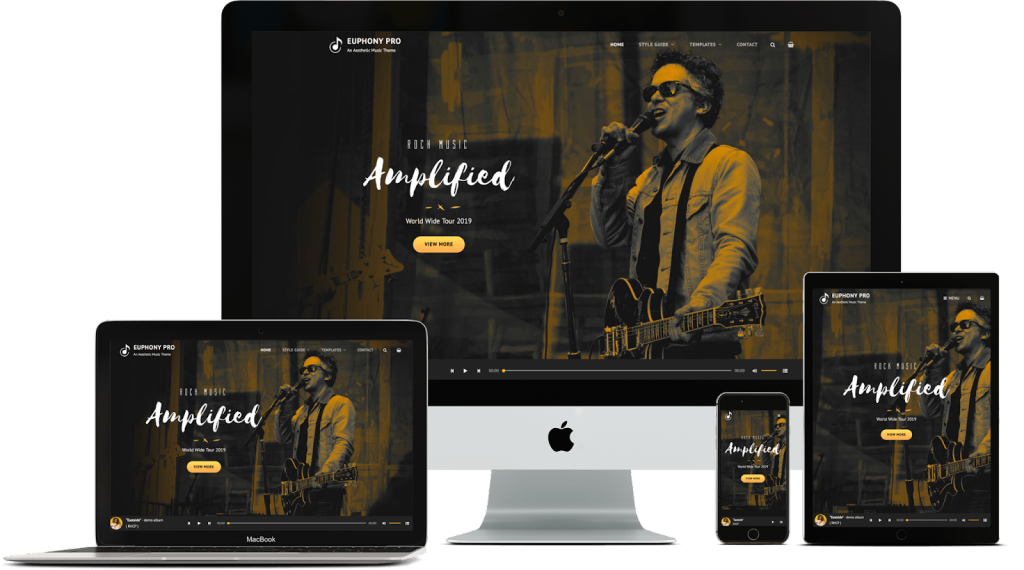 Should you have no idea about any music artist WordPress theme to adopt, Euphony is a great theme for musicians or music lovers. The main color of this theme design is dark, so if you often run advertising campaigns for your website, this is an ideal artistic WordPress theme for you to choose from.
As mentioned above, the design on the theme looks quite strong, bold by the effect of dark tones. If you want a change when editing, you can completely switch to light tones depending on your preference.
This WordPress theme is actively responsive and available to attach audio or videos. Euphony allows users to use many free theme demos, but you will have to pay about $60 more for premium options.
Let's discover more beautiful and personalized demos at Euphony according to your persona and the content of your website.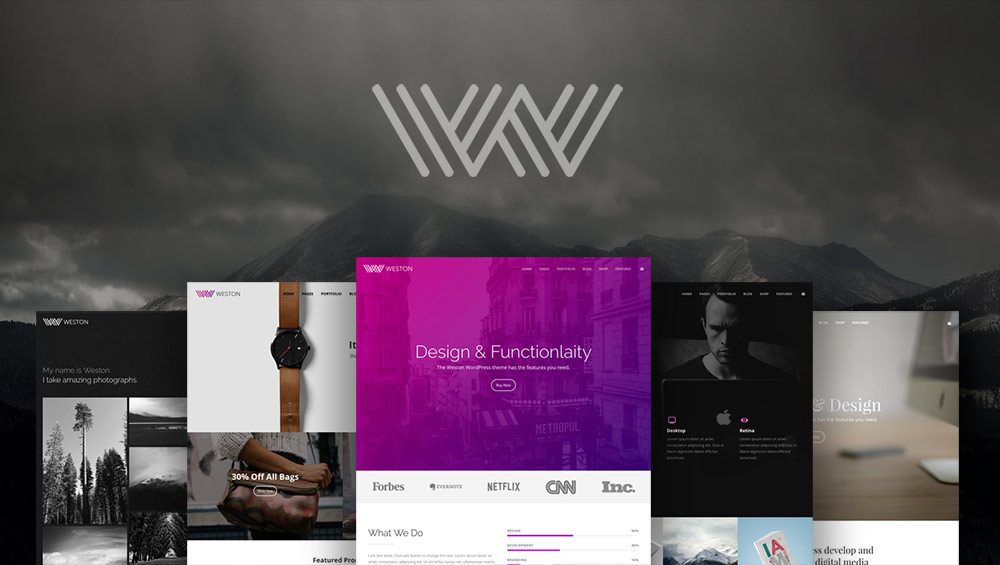 Weston is another amazing WordPress theme for artists that embrace outstanding features. You can benefit a lot from this WordPress theme. You will find it much easier to customize any available templates thanks to the WPBakery page builder plugin.
You will not feel confused because of the language barrier when Weston helps you to switch to many other languages. The advantages of Weston that you may not know are Google Fonts, video backgrounds and much more.
As with many other WordPress themes for artists that we've listed above, Weston is also integrated with WooCommerce, which allows your visitors easily to search for products, add to a shopping cart, and many other options.
The smart way to choose artistic WordPress themes is that you should prioritize SEO optimization features that are beneficial for the development of your website. Weston is an excellent theme that you must try. It also makes you feel good with the fast page loading speed.
To access this theme, you will have to pay a little fee of approximately $58. It completely does not break your bank, doesn't it?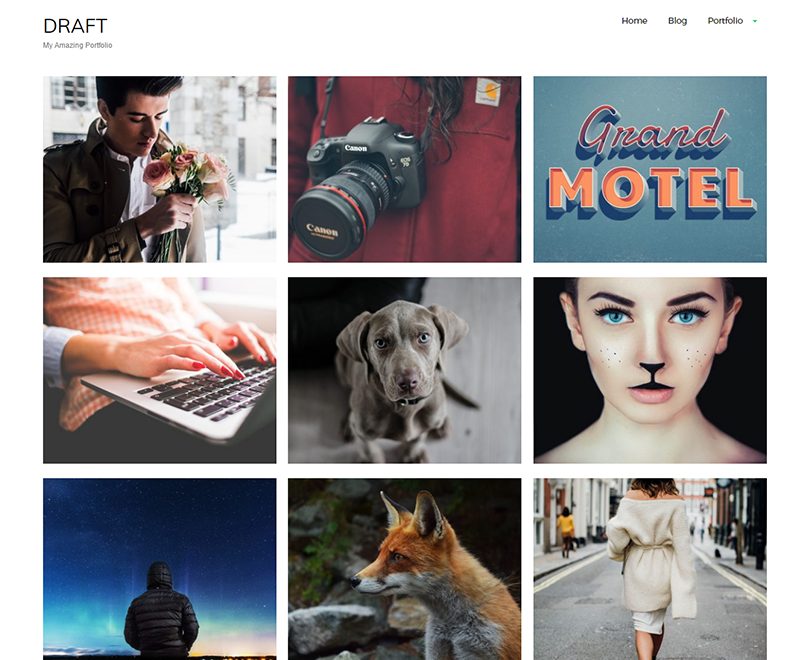 If you are looking for a simple, minimalist artistic WordPress theme, Draft Portfolio will be a wonderful destination for artists or any amateur users.
With the Pro upgrade, Draft Portfolio offers much more notable features that give you advantages such as 600+ Google Fonts, multiple color options and portfolio WordPress plugins.
Draft Portfolio will be a smart choice for you. It offers many free main features for your portfolio. So, if you are interested in these things, go to learn more about Draft Portfolio to have the best options for your website.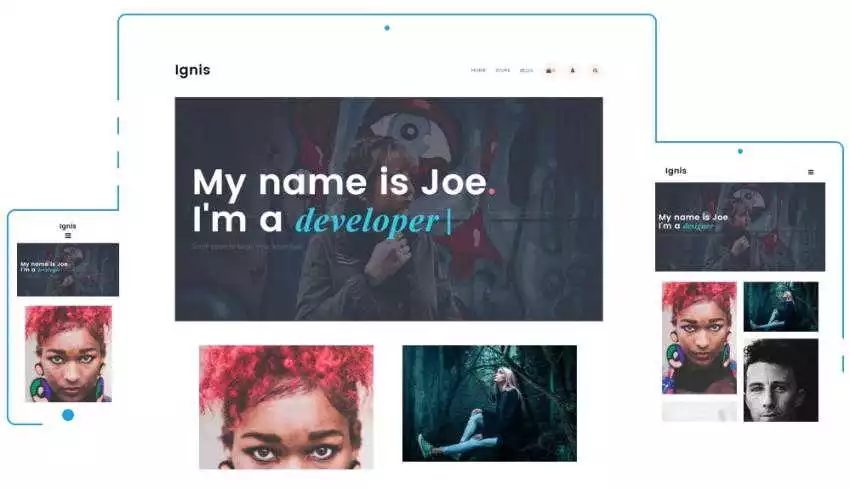 Last but not least, Ignis is one of the indispensable names in 13 Best WordPress Themes for artists in this post. You will be overwhelmed with large images and the high quality of them displayed on the screen. Straightforward effects drive you to easily scroll down or customize with no difficulties.
Artists or designers will find it easier to create or modify their WordPress sites. Simplicity in Ignis doesn't completely influence the effectiveness of web design. With a free WordPress theme for artists like Ignis, there's no reason not to try and use it for your website as an important stepping stone to attract certain volumes of visitors to your website sooner.
You also should explore more amazing WordPress themes from BoostifyThemes. At our store, you also will find awesome WordPress themes for artists.
In conclusion,
Choosing an artistic WordPress theme is one of the most important steps. Grasping the essential role of a WordPress theme, we have carefully selected and given you the most perfect suggestions.
The look of a website will stimulate potential users to stay and make decisions to learn about your website. SEO optimization with a perfect WordPress theme will help you reduce your advertising costs and grow your website faster and more sustainably.
Hopefully, this article helps you on your way to developing your own website from the very beginning. If you have any suggestions for a great WordPress theme that you have used for your website, please share it with us. We look forward to receiving your contributions. We also try our best to provide you with more useful information in the next blog posts.