For many decades, people have worn jewellery to serve a variety of functions in their lifestyles. Some people use jewellery to express themselves, while others see pricey jewellery as a sign of social status.
If you operate a jewellery store, you must create a professional image of your company online. Indeed, jewellery needs an attractive design to emphasize its worth. Your website's design is the first thing that your visitors will notice.
Using a jewellery eCommerce WordPress theme is the best way to show your business on the web and provide your potential shoppers with the best possible user experience.
We've done a lot of research and put together a list of the best jewellery eCommerce WordPress theme for 2022. Visit BoostifyThemes to look for the right jewellery theme to make your gems look even more luxurious.
What to Look For in a WordPress theme for Jewellery sites
Speed optimization
In recent years, slow-loading websites may have been damaging, since viewers have become impatient. That's why having a WordPress theme that's optimized for speed is beneficial.
According to a Pingdom report, websites that take longer than 5 seconds to load may lose up to 38% of their viewers. As a consequence, you should look for the finest WordPress themes for your jewellery stores that are speed-optimized to guarantee that your website runs smoothly.
Mobile-friendly
Switching to a responsive theme for your website is now the time to do so. Any businesses now have all switched to a responsive theme for their website and optimized for mobile devices. WordPress theme for jewellery makes no difference.
This means that, in order to be the best jewellery eCommerce WordPress theme, they must adjust to the screen's size. This may help you avoid common issues on mobile devices, such as tiny buttons or slow loading times.
SEO-ready
One of the most crucial aspects to consider if you want your blogs to rank higher in Google and other search engines is SEO.
Make sure the theme you select is SEO-friendly.
Because badly designed HTML (which is more common in free themes) might have a negative impact on your search engine results.
In this case, the solution is to pick an SEO-friendly theme that will help you improve your search engine ranks. It should also be light, well-coded, and compatible with SEO plugins.
Responsive design
Don't forget to check responsiveness on various devices and browsers when adopting a theme.
Since then, the eCommerce market has been flooded with both excellent and subpar themes. Customers also have their own preferences, such as whether they prefer to do their browsing habits on a mobile, laptop, tablet, or other devices.
WooCommerce integration
WooCommerce is a WordPress plugin that converts a blog or CMS into an online store. There are several WordPress themes available for installation on your WordPress dashboard.
So, if you're using WooCommerce to build your store, you'll want to ensure that the themes you choose are WooCommerce compatible.
Multiple language support
Boundaries do not exist in online shops. To deliver your services and products, you may reach buyers in all parts of the globe.
However, if your chosen theme does not support WPML, it may confirm your limitations. By using a theme that supports WPML, you will give service to your customers in their chosen language or mother tongue. It can help you expand your customer base and boost your earnings.
It's likely that you're not developing a bilingual website right now – and only wish to serve shoppers in your region. It's entirely up to you, but planning for the future is always a good idea. As a result, we suggest adopting a WordPress jewellery theme that supports many languages.
You are finding a quality theme that meet all the criteria above, please refer to WordPress themes for small business.
Why Should Use a Premium Theme for Your Jewellery Site
For now, the jewellery market become competitive day by day because thousands of sellers struggle to create the most unique designs but they will be sooner copied and sold in other places.
That's why investing in the appearance of your store website will boost your chance to defeat your competitors if you are selling the same jewellery.
So, how to make your jewellery stores not only getting professional and luxurious but also perform smoothly and be user-friendly?
The answer is using a premium jewellery store WordPress theme to make your online store stand out among thousands of different jewellery online stores.
But first, think about free vs. premium WordPress themes; the choice is entirely yours; there is no generally "better" solution.
Despite this, we believe that the advantages of developing a premium theme much outweigh the downsides of using a free theme. As a result, if you can afford it, a premium solution is recommended.
Premium themes are usually expensive for some reason. They should have a lot of features, be quick to respond, and be properly backed by the support team. When compared to their free counterparts, premium themes are frequently anticipated to be of higher quality.
The best place to find your premium jewellery website design templates is BoostifyThemes – Themeforest jewellery theme with a variety of jewellery eCommerce WordPress themes.
Best premium WordPress themes for building a great jewellery store
Miini is one of the most stunning and modern Elementor-based WordPress themes for female businesses, and of course, the best jewellery website design.
It was created as a jewellery eCommerce WordPress theme but it is also designed for women's stores, clothing stores, cosmetics stores, bookstores, and accessories stores.
Because this is an eCommerce WordPress theme, the WooCommerce plugin is included. Simply upload your images and link the theme to your payment processor. It's a great method to generate money that doesn't need any effort to get started.
Miini is fully compatible with the Elementor page builder, allowing you to use a drag-and-drop interface to construct the layout of your pages. It also comes with a powerful admin panel where you can customize fonts, colors, and other options for your jewellery online shelves.
Pros
The design is stunning and neat, a right match for jewelry online stores
Elementor compatibility was quickly fixed.
Cons
Occasionally buggy (but be fixed very quickly)
Price
Miini's regular license is $59 and up.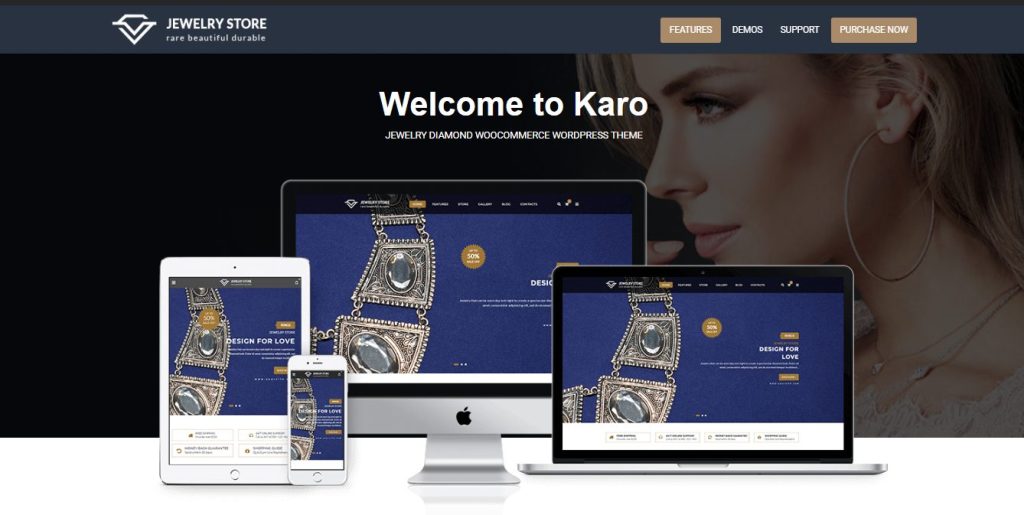 Karo is a versatile WooCommerce jewellery theme with a variety of pre-made jewellery shop demos to pick from.
Karo offers you more than 50 jewellery store demos. The professional WPBakery Page Builder plugin and the complex Elementor tool are the two integrated options for changing the pre-made content of this theme.
Karo has a wealth of eCommerce-friendly features. As a result, you can make sure that your online store has excellent performance to provide your customers with a great user experience.
Karo also integrates with the greatest WooCommerce extensions, featuring add-ons for making your jewellery business a multi-vendor marketplace. If you want to use your website to promote your items rather than sell them online, you can operate Karo in lookbook mode.
Pros
A beautiful, flexible, advanced theme, with many features and options
Easy setup and well documented
Great customer support
Cons
The theme is not able to import properly some pages.
Price
Regular license: $59
Extended license: $2600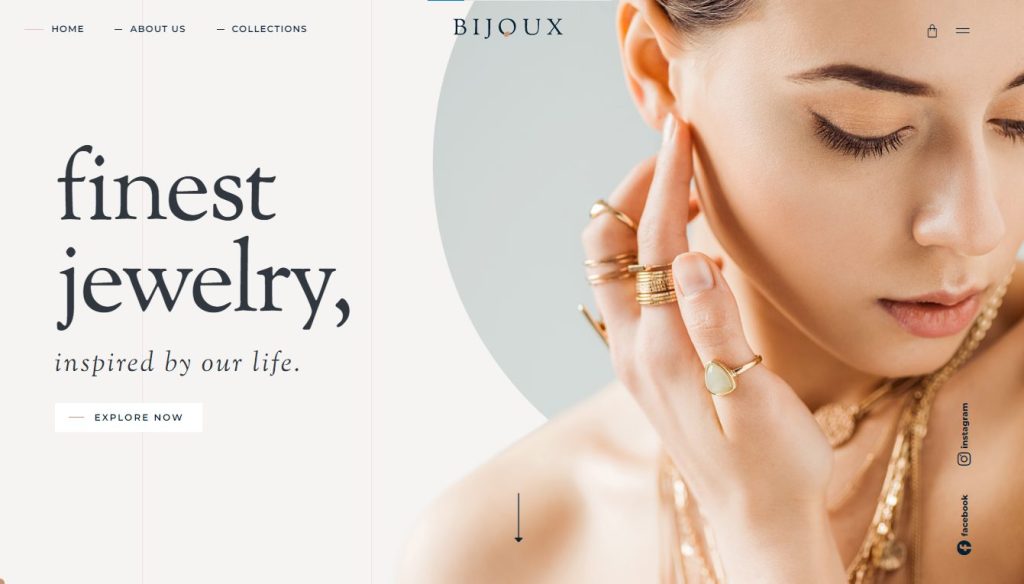 Bijoux is a jewellery shop theme that highlights handcrafted items. You can use BIjoux to showcase and sell a variety of elegant handcrafted items, including watches, jewellery, apparel, art, and more. You may be also interested in WordPress themes for artists.
Because it does not require coding experience, this stylish and clean jewellery WordPress theme is ideal for newbies.
This theme comes with two different jewellery website demos to select from, each with a unique design. While many Bijoux designs provide room for photos of your jewellery, you can utilize the collections templates to highlight your jewels.
Furthermore, Bijoux includes the Elementor page builder, allowing even a novice to design a professional-looking website. WPML integration, slider revolution, RTL support, and one-click import are among the other features.
There are several video tutorials and articles available to assist with the page creation process.
Pros
No code required
The theme can be easily modified to suit any type of product.
Cons
Sometimes buggy that you can not edit the collection page with Elementor.
Price
Regular license: $79
Extended license: $1600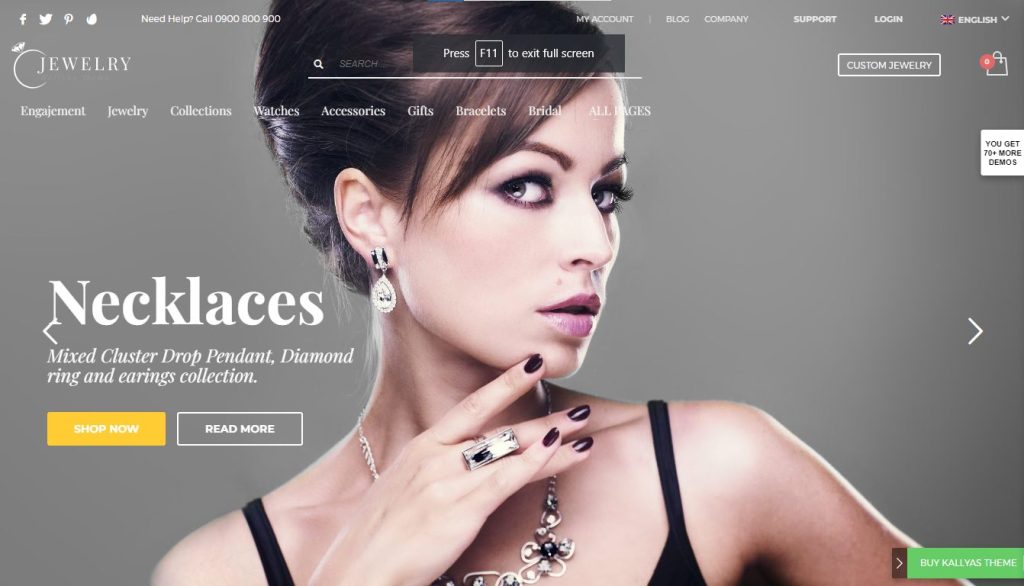 Kallyas is another versatile theme that is considered ideal for using WordPress to start an online jewellery business.
When it comes to building your online store, the two demos created exclusively for developing online jewelry stores, as well as the watch shop demo, will save you a lot of time and work.
It just takes a few clicks to import the demo material, after which you may submit your items and customize the wording. Thanks to compatibility with the powerful WooCommerce online shop builder WordPress plugin, setting up your eCommerce store is simple.
The integrated live front-end page builder tool may let you alter the demo content if you want to get creative with the style and appearance of your new jewellery eCommerce site. It's also not difficult to create your own customized layouts from the beginning.
Kallyas is truly one of the most versatile selections in this collection, with so many features available.
Pros
It has been working well for years with full, quality WordPress integration
It loads fast
Cons
It is not good on mobile screens
Price
Regular license: $69
Extended license: $2100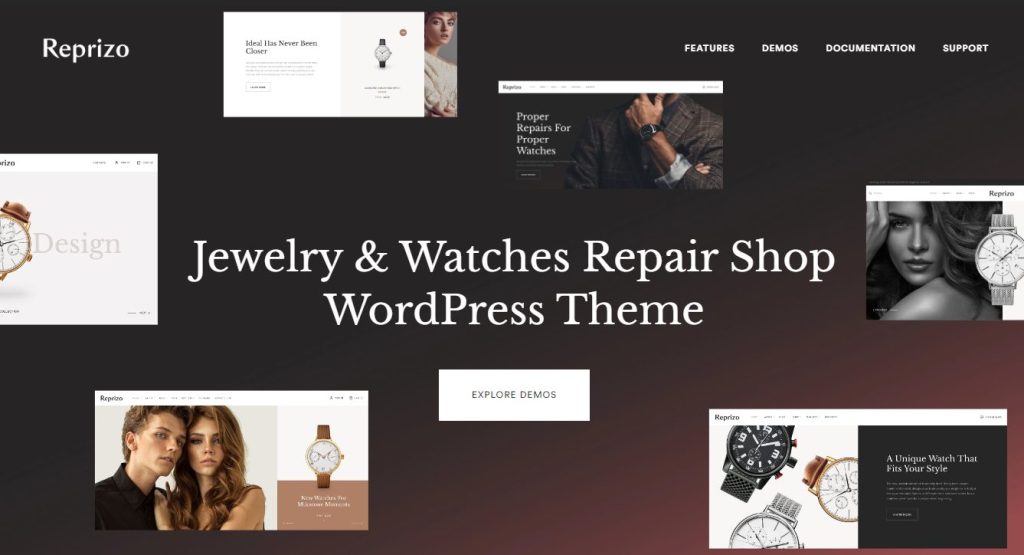 Do you want to start an online jewellery, watch, or fashion accessory business? Repro, an attractive and modern WordPress theme, comes with five beautiful and minimalist demos to help you get started quickly.
While the basic WooCommerce plugin makes it simple to set up an online store, the plugin's wide library of add-ons allows you to tailor your business to your individual requirements.
It has a variety of home page and blog layouts to select from, as well as pre-made header styles and variable color choices, to let you customize the appearance and feel of your website.
Furthermore, you can use the Elementor page builder plugin to easily alter all of the templates in the Reprizo package, whether you're reorganizing the contents of the pages, adding new components, or changing the way they appear.
Pros
High-quality code
Easy to set up and use.Great support.
Cons
Some mistakes on the demo show
Price
Regular license: $59
Extended license: $2000
Top Tips For Designing an Amazing Jewelry Website
Choosing a jewelry WordPress theme is a good route to get your online business off the ground. To make your design stand out among the sea of eCommerce jewellery websites, you'll need more than just jewellery themes.
That's why we've compiled a list of five suggestions for creating the greatest jewelry website design. Consider implementing some of these gems into your website.
Feature images to show off your jewelry
The things you're displaying to consumers are the stars of the show. Take images and videos of your items that are of great quality. After that, include them in your jewellery WordPress theme. This ensures that your website's most crucial graphic elements are constantly visible.
Use a minimal design
Having a busy design will, of course, obscure your jewelry images. As a result, you should ensure your jewellery store WordPress theme has a simple design. Minimal design is vital in jewelry themes and websites because it allows the items to shine out on their own.
If you are looking for a theme with a minimal design, it is recommended to explore minimal WordPress themes.
Place a premium on mobile-first design
The bulk of internet users utilizes mobile devices. Make sure your eCommerce jewellery website is mobile-friendly to appeal to this vast market. Visitors using cell phones and tablets should enjoy the same seamless experience as those on desktop computers.
Easy to set up
Nowadays, everything is offered online. You should create an online shop on your web. It allows buyers to order things from the comfort of their own homes, whether you're offering specialized handcrafted jewelry or luxury gold products.
To simply set up a comprehensive online shop you sell your items safely and more efficiently, be sure to select a WordPress theme that supports WooCommerce.
Use CTAs (Call-To-Action) to avoid visual clutter
Clutter is a sign of genius, but unfortunately, not in this situation. Clutter is the most common design blunder that may ruin your conversions since it can be confusing for customers.
To avoid falling into this trap, consider what you want jewelry consumers to see and do when they come to your website, and make sure you have a Call-to-Action (CTA) that directs them to do precisely that.
One of the most usually overlooked website features is CTAs, such as the one displayed below. In fact, despite the fact that CTA buttons are supposed to perform better than Google advertisements, 70% of websites do not have them on their homepage.
Keep your website safe
For eCommerce jewelry websites, having a secure page is critical. If shoppers are required to enter their credit card information on your website, they must be certain that it is secure. A free Secure Sockets Layer (SSL) certificate goes a long way toward protecting your customers' data.
Conclusion
You're ready to start creating your own site now that you've seen the top jewellery eCommerce WordPress themes. If you're seeking responsive themes for any other sites, head over to Premium WordPress Themes of BoostifyThemes and check over the entire collection. You'll be able to find out exactly what you're searching for among the hundreds of amazing themes available.