Create Tour
The first step in creating tour content is to create a tour post.  This WordPress theme has various post options for you to display different content on your tour information.
Go to WordPress Dashboard > Tours > Add New
Enter post title and content.
Upload tour featured image using set featured box on the bottom right side. All pages will use this image for post preview image and thumbnail.
Publish your changes.
A tour includes 4 main sections: Location, General, Information, and Itinerary.
In Location, you add Destination of the tour and Map.

In General, you can add tour layout, video, and images to introduce your tour.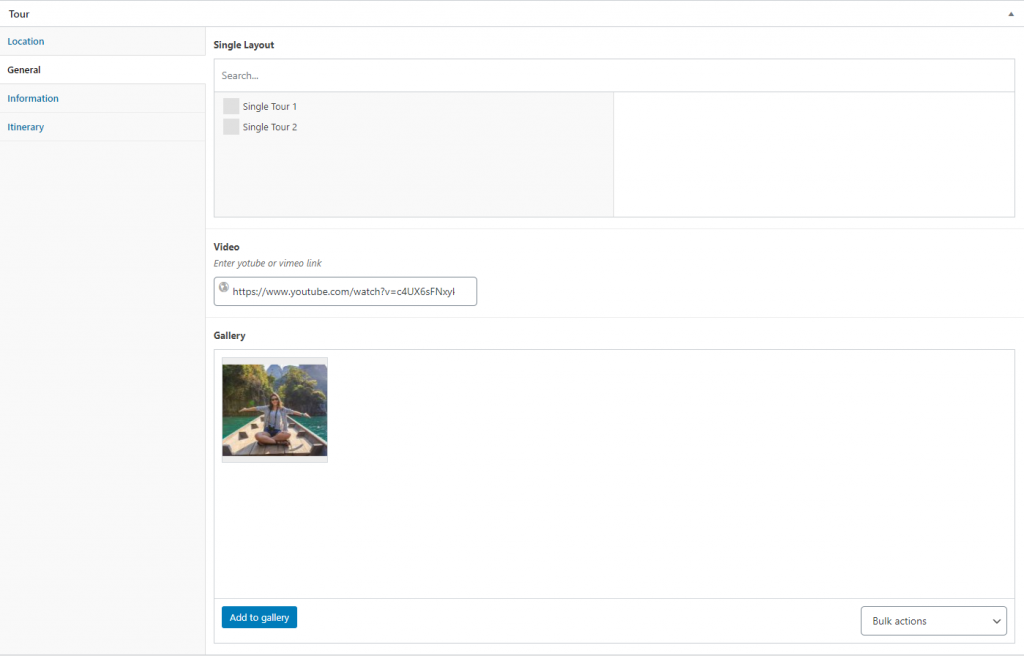 In the Information section, you need to enter Tour Duration Content, checkin & checkout date, Availablity, Age, Price, and Price sale.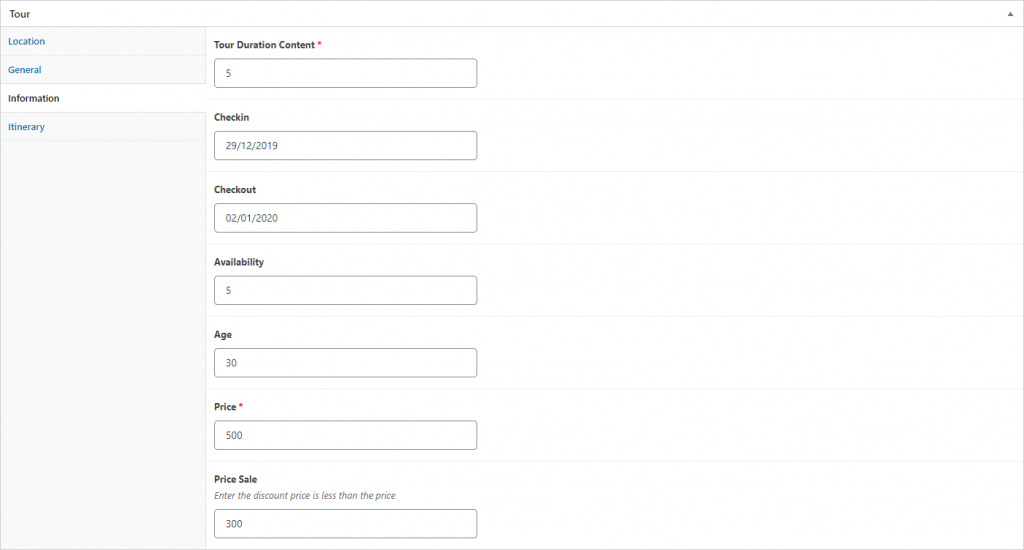 In Itinerary, you need to add schedules of the tour and Faqs (some questions+ Answers that the visitors may propose) to clarify for the visitors.

In addition to the main information above, to have a complete tour displayed for your visitors, you need to add Tour Category, tags, and tour's featured image, which will make your tours attract more visitors and more easily be found on the Internet.
Also, in Wunderlust, there are 2 layouts for you to display tours by default. When customizing tours you can choose 1 or 2 layouts for them.
To edit/adding the layouts as your own, go to Dashboarsh > Single Layouts, choose Add New if you want to add a new layout.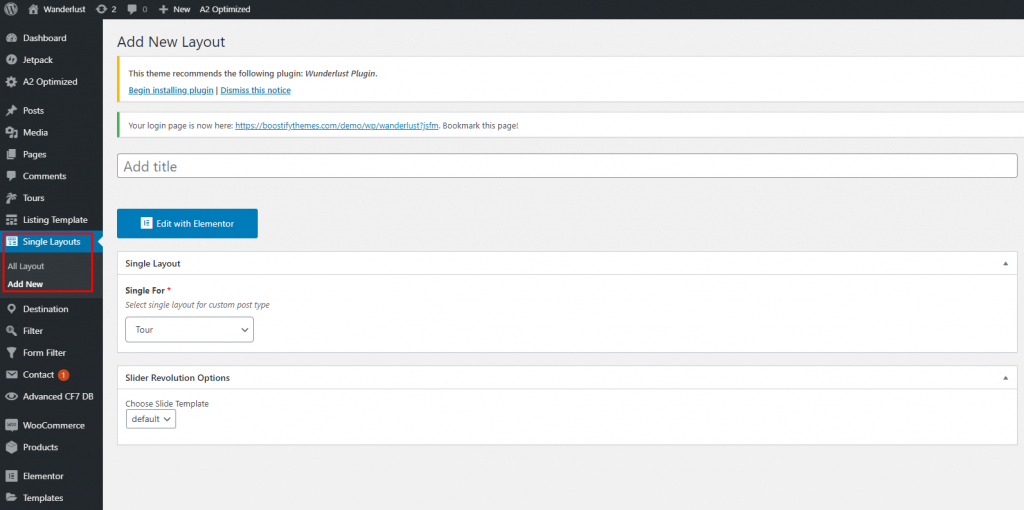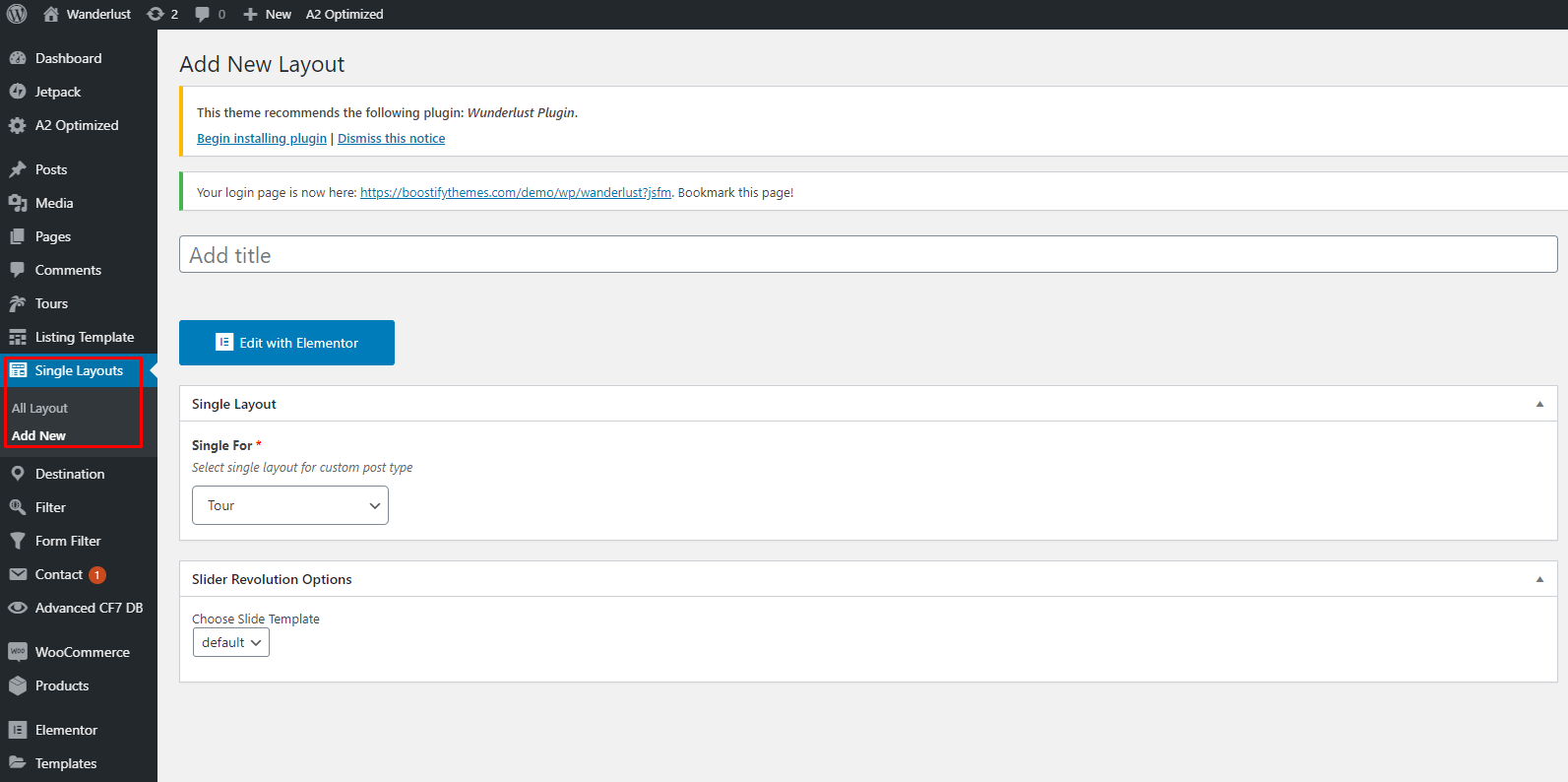 Or go to All Layouts then select the layout you want to customize. However, to add new or edit the layout, you need to have knowledge of programming or hire a developer.

Booking
With Wunderlust, you can create a booking form in 2 ways: WooCommerce and Contact Form 7 Plugin.
Booking using Contact Form 7 Plugin
To create a booking form with Contact form 7 plugin, go to WordPress Dashboard > Contact > Add New.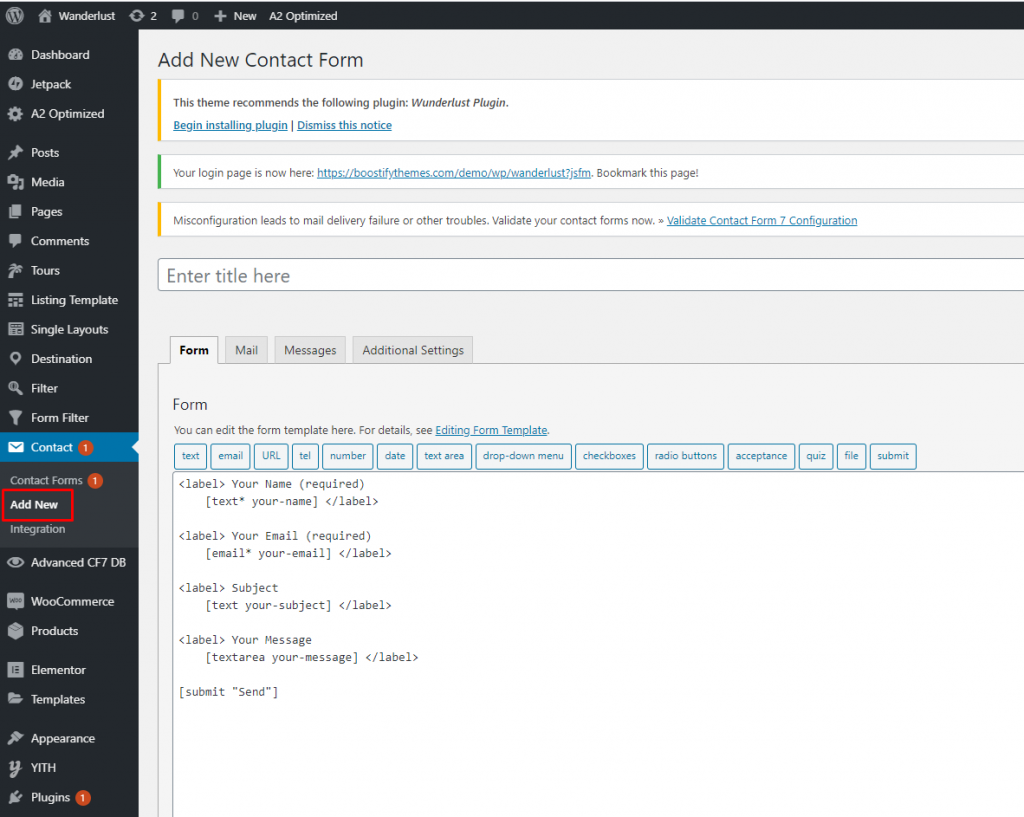 Here, you need to add the name of the form. Every main information is available, so you just edit/ add more if you want.
If you want to edit the existing forms, go to WordPress Dashboard > Contact > Contact Form. You will see a list of forms created before and choose the form you want to edit.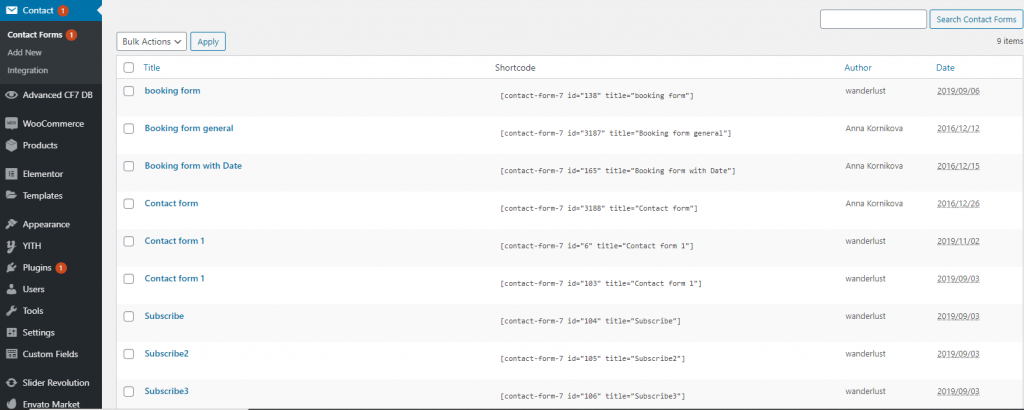 Below is how booking form using contact form 7 looks on the frontend: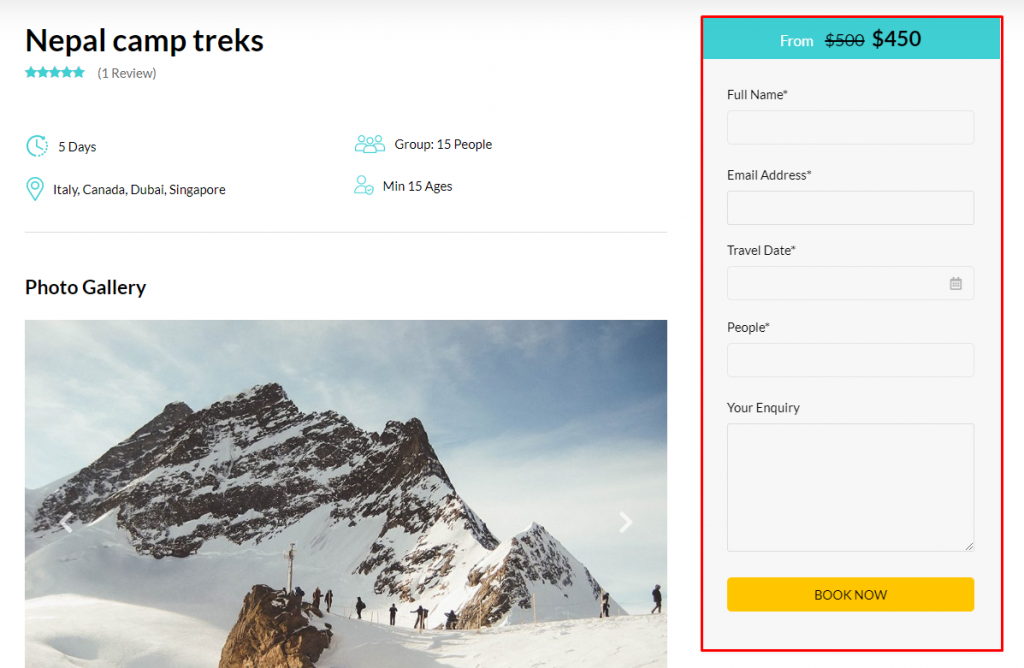 Booking using Woocommerce product
Booking form using WooCommerce is a default in Wunderlust. When customers complete the booking form, it will add the selected product to cart and your customers can checkout and pay using online payment options from Woocommerce.
In Frontend, you choose a tour that you want to edit, then click "Edit with Elementor"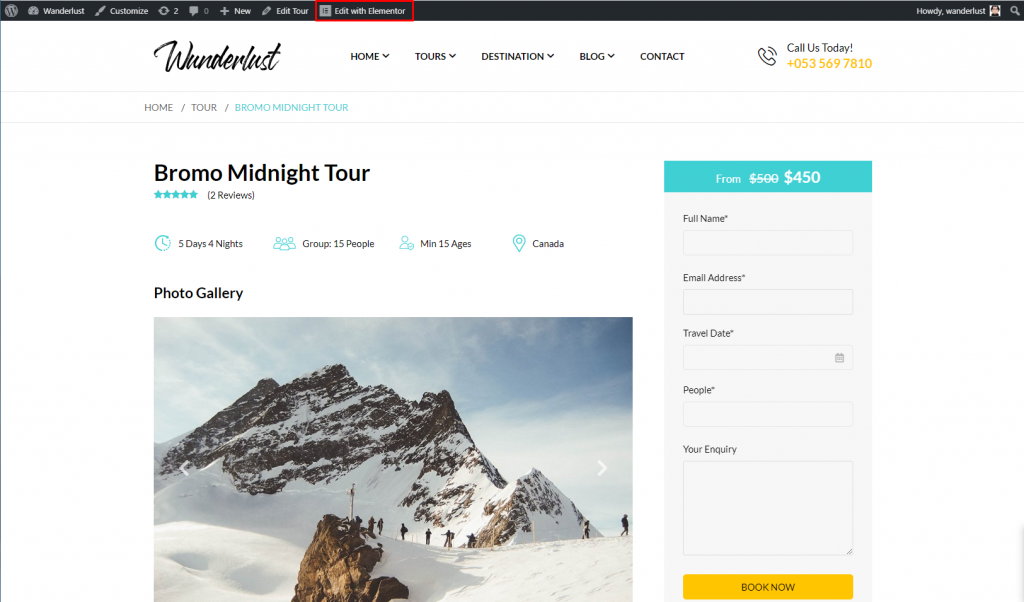 To change the booking form into WooCommerce style, first, click into the booking form, then you will see the content box in the left side of the page, just need to click in the "Form" box and choose WooCommerce.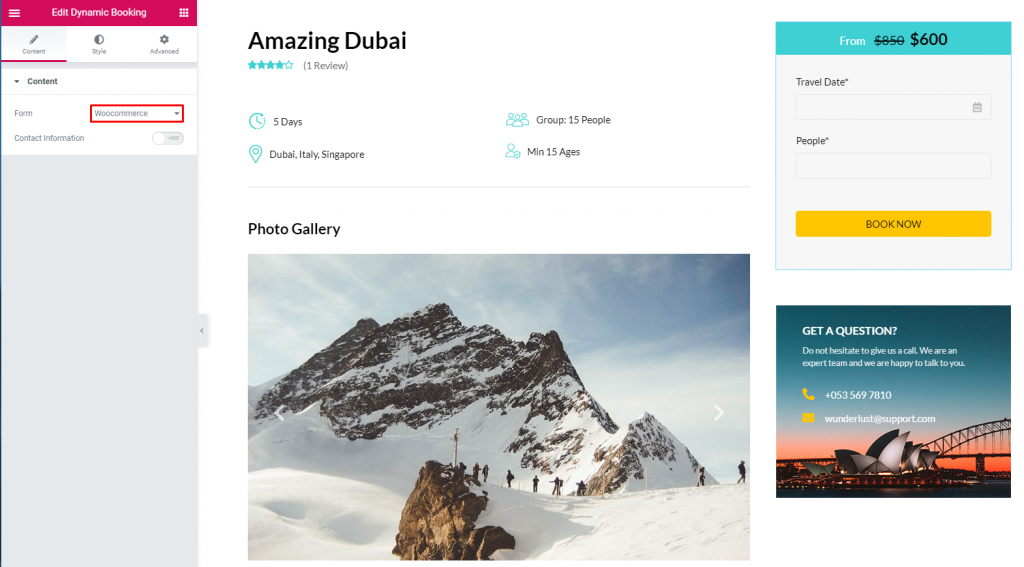 Once you've done, Publish your changes.